F-200, HiTech Piping, Canada
T-DRILL F-200 Increases HiTech Piping's Prosperity and Production Volumes – "One of the Best Machines There Is"
HiTech Piping Ltd is a Canadian company offering customers hose and pipe assemblies, fittings, accessories, coatings and expansion joints. Founded in 1989, HiTech Piping serves industries such as pharmaceuticals, chemicals, food and beverage and pulp and paper. The company's head office is in Quebec. In 2021, HiTech Piping reached a revenue of $10MM and employed 22 people.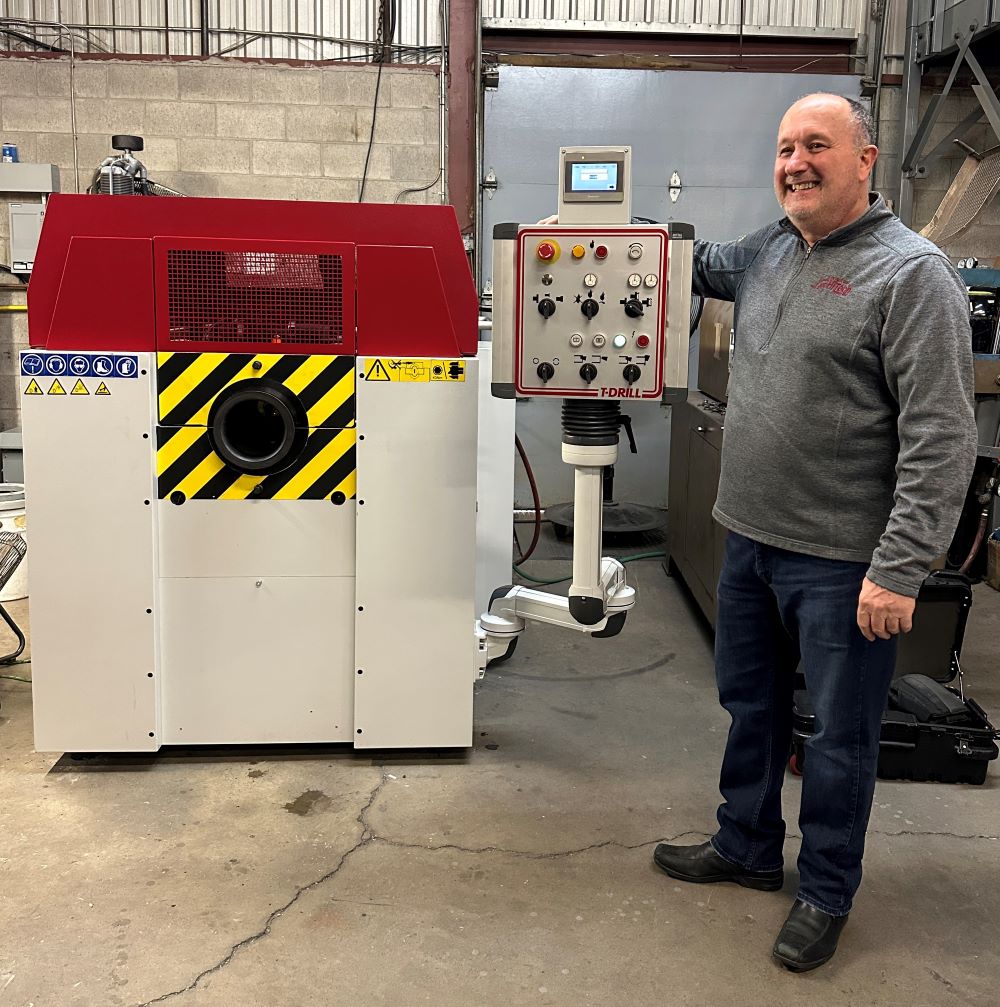 Owner of HiTech Piping, Steve Di Florio, with the F-200

HiTech Piping recently purchased the T-DRILL F-200 flanging machine. The F-200 forms flared laps and flanges directly on the end of the pipe, eliminating the need for welding, nondestructive testing and the risk of weld failures. Loose flanges are easy to install and the machine's programmability enables easy operation. HiTech's F-200 has an integrated heating system for forming carbon steel, eliminating the need for normalizing after forming.
─ We have had the F-200 up and running for a while and I am impressed. I love the way the machine works. It fits perfectly into what HiTech is doing, says owner Steve Di Florio.
F-200 Automates Processes: Larger Product Selection and Higher Production Volumes
Before the T-DRILL F-200, HiTech was using a different flanging machine. Even though the machine worked fine, Steve felt like there were constant adjustments that needed to be made, which was quite time-consuming.
─ We had to do a lot of modifications and grinding in order for the end result to be up to standard. Every time we did a flare, we had to define a radius to it, which added additional time and labor. With the new T-DRILL F-200, we set up all the numbers at once and it works seamlessly. The process is now automatic and requires no grinding. We get a consistent radius every single time.
With the old flanging machine, HiTech flanged pipes from 1 inch up to 4 inches. The F-200 enables them to flange pipes up to 8 inches, increasing the variety of their product selection. The automated settings allow HiTech to flange pipes one after another. The smooth, time-efficient process will lead to higher production volumes.
─ This machine will increase our prosperity and allow us to strengthen our cooperation network. It is a state-of-the-art piece of equipment, one of the best there is. We made a very good choice purchasing it.
F-200 Differentiates HiTech Piping from Other Manufacturers
With the purchase of the F-200, HiTech Piping is now able to produce a wide array of fabricated pipe spools in a timely manner. The capability will allow them to serve a wider range of Canadian customers and to increase their business. HiTech has also now applied for a CRN. Canadian Registration Numbers are issued to pressure vessels, fittings and parts that meet the high level of design and construction that pressure vessels require.
─ The T-DRILL F-200 eliminates threads and welded joints, which means that we will be able to produce pipe assemblies for applications that are classified as pressure vessels after we are issued the CRN. The F-200 will differentiate us from other manufacturers.
Steve is pleased with the customer service T-DRILL offered. He praises T-DRILL engineers for always being available and for their good communication throughout the process.
– We actually had fun while they were here. It is easy to work with T-DRILL.
Get to know HiTech Piping
Learn more about the T-DRILL F-200
Published: August 8, 2023