Company Profile
About us
T-DRILL is a manufacturer of high-tech tube and pipe fabrication solutions. Our standard products consist of a wide range of machine tools that are used in many different industries, from automotive to shipbuilding. In addition to our wide product range, we have a strong emphasis on product development and after sales support. This development is backed up by an effective production system and many decades of experience.
T-DRILL has developed products for mechanical contractors and plumbers, for whom the original T-DRILL tee forming was invented. Today, we use the same principle with decades of continuous improvements to our product range. This means we are making fast applications even faster, automatic equipment even more intelligent, and reliable systems even more reliable.
All these efforts have resulted in larger, highly automatized tube fabrication machinery and more efficient and ergonomically designed portable machine tools. In short, the T-DRILL family of professionals helps their customers to increase their productivity by offering a long-lasting advantage and edge.
T-DRILL has its roots in Finland but the products are sold all over the world. In excess of 95 % our products are exported to more than 60 countries. T-DRILL is part of Leinolat Group and has three facilities; two in Finland and one in Atlanta, USA.
T-DRILL Oy
Headquarters with Sales, Service and Assembly in Laihia, Finland

Component manufacturing in Isokyrö, Finland

T-DRILL Industries Inc. 
Sales and Service in Atlanta (for the USA, Canada, Mexico)


Company Values and Operation policy
The basis of the operation of T-DRILL Oy is overall quality and continual improvement. T-DRILL develops its operation and its planning at every level of its organization in cooperation with various parties. The target is a lasting interaction with the environment. At the same time we have committed ourselves for the prevention of environmental pollution. The products and service have to meet the customers' demands and expectations and they have to operate in a cost-efficient way.
The management commits itself to maintain the preconditions for the production of good quality and for the operation that saves environment.
T-DRILL trains, guides and encourages its staff to operate responsibly regarding quality, environment, health, safety and economy. T-DRILL monitors and evaluates quality of their operation and its effects on the environment regularly by the means of measurable quality and environmental objectives. Every employee is for his part responsible for the realisation of those. To secure the quality of our products every function is carried out from a customer's point of view.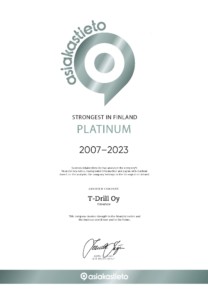 The Strongest in Finland Platinum certificate announces clearly and reliably that based on credit classification, the company has been at the very top of the corporate world for a long time. The Strongest in Finland Platinum special certificate is proof of the company's excellent financial performance indicators, positive background, and good payment behavior. The classification is granted by Suomen Asiakastieto Oy.
Quality
The quality system is a basis for an efficient and target-oriented operation, as a result of which the high-quality T-DRILL products are created.
The quality system of T-DRILL Oy has been certified according to the ISO 9001 standard. ISO 14001 Environmental Management Standard supplements the quality system.
The purpose of the quality and environmental policy of T-DRILL Oy, in other words operation policy, is to give the staff a uniform direction to develop the quality of the products and operation.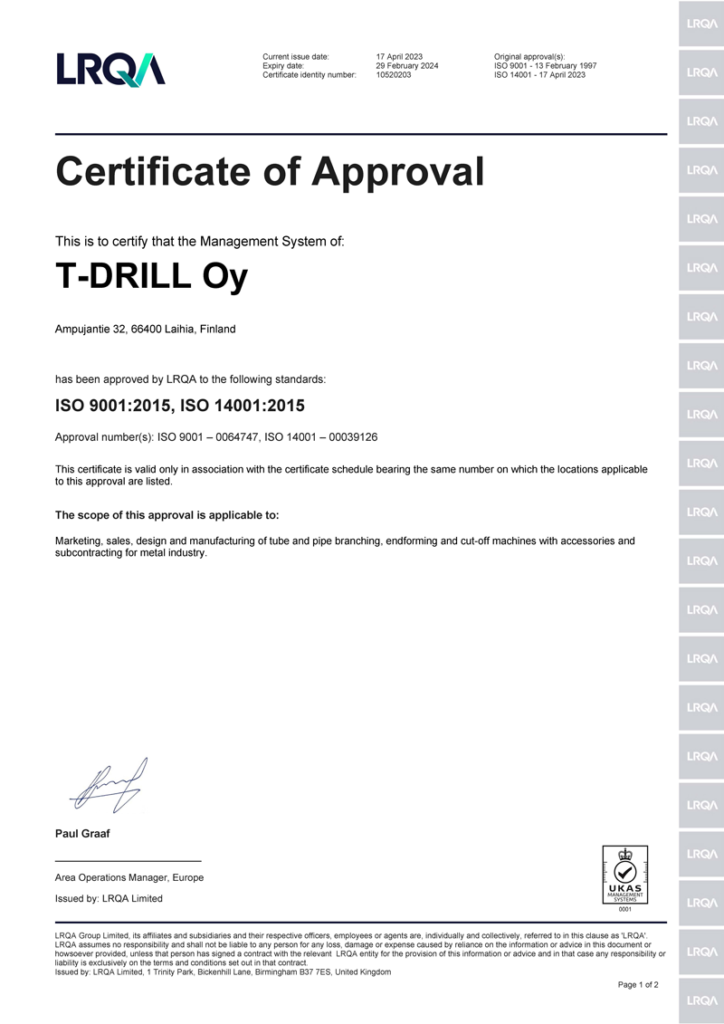 T-DRILL's History
A Finnish Engineer developed first in the world a Tee-branching machine – or a Collaring Machine, as we call it – at the beginning of the 1970's.
In 1978 G.A. Serlachius Oy (later Metsä-Serla, nowadays known as M-Real) bought his company.
The first sales offices in the United States and Britain were set up in the late 1970's.
In 1980 the company moved from Vaasa to Laihia.
In the 1980's, T-DRILL expanded its product range by introducing chipless cutting and tube end forming. Attention was also paid to automation and more flexible job rotation.
In 1987 Metsä-Serla Oy (previous G.A. Serlachius Oy) sold the business operations of T-DRILL Division through a management buy-out. The present T-DRILL Oy was formed.
Leinolat Group bought the majority of T-DRILL Oy shares from Osmo Syrenius on 27th of June, 2013.