TEC-220, SP Stainless, Finland
The T-DRILL TEC-220 Collaring Machine Gives a Competitive Edge to SP Stainless – "It Will Increase the Profitability of Our Business"
SP Stainless is a Finnish manufacturer of acid-proof, stainless-steel piping, pipe fittings and equipment for the needs of the process industry. Their customers include machine manufacturers in the paper and pulp industry and in the mining industry. SP Stainless has facilities in Toivala and Savonlinna. The company employs around 50 people. In 2022, SP Stainless reached a turnover of € 8 MM.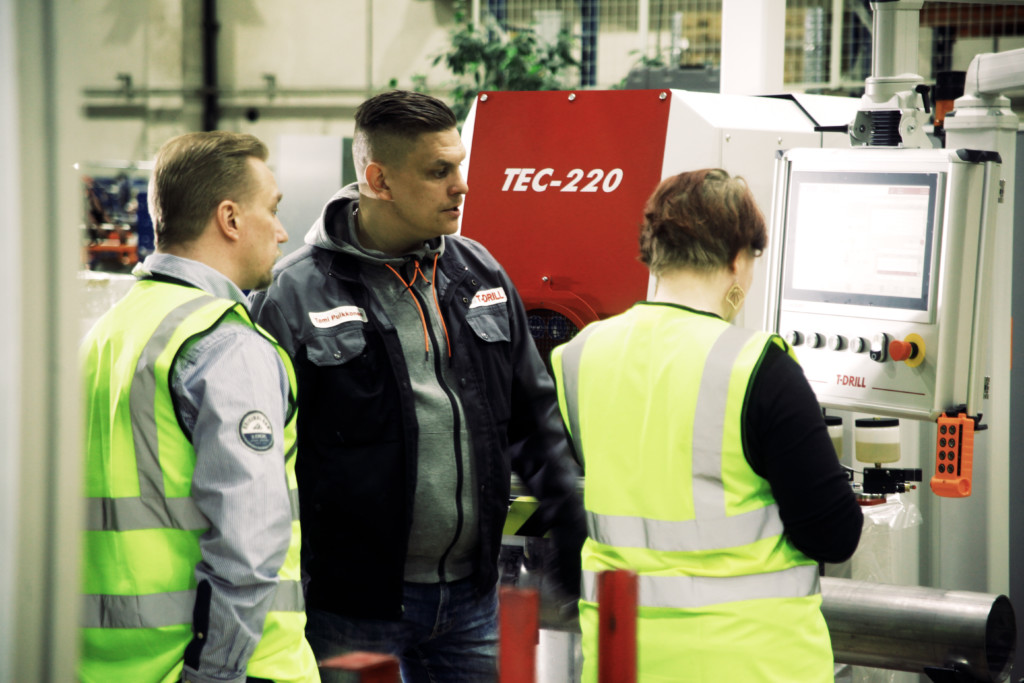 SP Stainless visiting T-DRILL
SP Stainless recently purchased the T-DRILL TEC-220 collaring machine. The company was looking to increase the efficiency of their production: the T-DRILL TEC-220 produces t-joints that SP Stainless previously made with three different machines.
– Before, we drilled a pilot hole with a water jet, pulled the collar with the ball pull method and finally, trimmed it. Now, we can complete all phases with one machine. It provides an important competitive edge for us and will increase the profitability of our business, says Arto Koljonen, CEO of SP Stainless.
Lower Production Costs, Less Working Time and a Stronger End Product
The TEC-220 branches tubes with the T-DRILL collaring method, which was developed in the 70's. It forms outlets directly onto run pipes, eliminating the need for several welded joints and costly T-pieces. The method results in lower production costs and less working time. According to Koljonen, the method also results in a higher-quality end product: the tee can be butt-welded, which leads to the joint being stronger and easier to inspect.
– Not having to weld T-pieces together means less welded joints, which is something we strive for. The technology is unlike anything we have seen from other suppliers. T-DRILL has the most advanced pipe joining methods that we have ever encountered.
SP Stainless' new TEC-220 is not their first T-DRILL machine. The companies' cooperation dates back to the 80's, which is when SP Stainless received their first T-DRILL machine. In 2007, the company purchased a T-DRILL TEC-150 collaring machine, which is still in use in their Savonlinna facility.
– The TEC-220 is like an upgraded version of our original TEC-150. It is more automatized: for example, it has an Automatic Positioning System that makes the collaring process even faster.
T-DRILL Service Agreement Ensures Uninterrupted Production
According to Koljonen, SP Stainless is now looking into the opportunity of making a service agreement for their new TEC-220.
– We want to move onto having regular, preventive maintenance. The machine is an important investment and a vital part of our operations and we want to make sure it functions as planned. It ensures the uninterruptedness of our production.
Koljonen has been happy with T-DRILL's service. SP Stainless has received the needed spare parts and maintenance on time and have faced no extended production halts as a result. Koljonen finds it beneficial that T-DRILL engineers are close by and that they can communicate with them in their own language, which makes especially service calls smoother.
– During the TEC-220 project, our contact person at T-DRILL has been very active and provided answers to all questions and concerns we may have had. We are extremely happy with our cooperation.
Get to know the TEC-220
Visit SP Stainless' website
Published: June 13, 2023