S-56, Conpipe Scandinavia, Sweden
T-DRILL S-56 Collaring Machine for Conpipe Scandinavia
Conpipe Scandinavia, part of the Conpipe Group, is a Swedish company specializing in trading and manufacturing pipe products and components. Their products range from exhaust pipes to custom made pipes and tools. The products are made for, among others, the automotive industry. Conpipe serves their clients, such as Volvo and Scania, with quality and precision.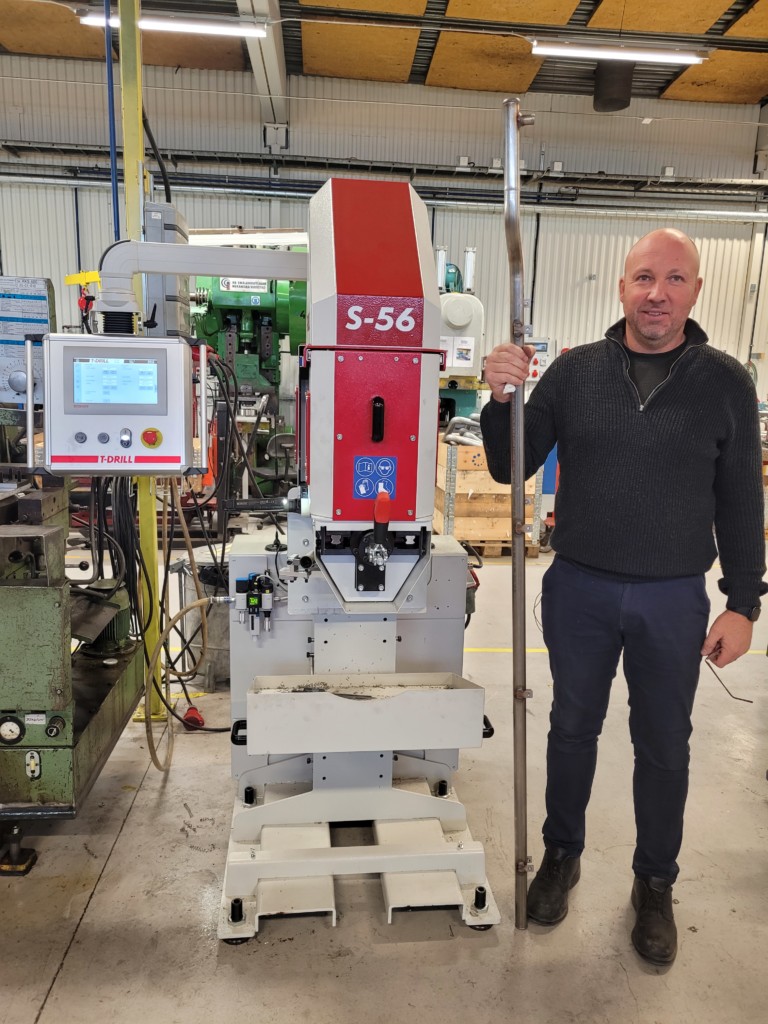 Anders Sjölander / Conpipe Scandinavia
T-DRILL S-56 Collaring Machine Improves Product Quality and Increases Production Rates
Conpipe Scandinavia was the first customer to receive T-DRILL's brand-new S-56 collaring machine. T-DRILL was brought to Conpipe's attention by Herber Engineering, a long-time business partner for both T-DRILL and Conpipe. It was clear to Herber that a T-DRILL machine would meet Conpipe's collaring needs.
— We were looking to improve our process of manufacturing cooling pipes. We needed a collaring machine that was small, fast and flexible, says Conpipe's Technical Manager Anders Sjölander.
Conpipe produces pipes that vary in shape – the pipes may, for example, have a branch, shortly followed by a curve. When every pipe is bent different than the last, a collaring machine with automatic feeding is out of the question. According to Export Manager Jukka Harju, T-DRILL went through different machine options looking for the right solution for Conpipe. The T-DRILL S-56, which is available as a stand-alone model without an automatic feeding table or a robot, quickly stood out.
— We started the project by conducting test runs with pipes that we received from Conpipe. Our engineers tested different settings, solutions and tools on differently shaped pipes. The S-56 has advanced servo technology and the kind of control and mechanical structure that enables a speedy work cycle. It is the most effective solution for the customer.
A Well-Functioning Machine Elicits Plans for More Comprehensive Use
After test runs were successfully completed, T-DRILL's Service Engineers travelled to Sweden to install the machine. They also provided user training for the machine operator and conducted commissioning. Sjölander is happy with the project's results.
— The installing and commissioning process went well. We are happy with both T-DRILL's expertise and the machine itself. Our staff's comments about the S-56 have been nothing but positive. With the T-DRILL S-56, we are able to increase our production rates and the quality of our pipes.
With the S-56 turning out to be beneficial for Conpipe's business and being a vital addition to their production, the company has plans to utilize the machine even further. By adding a bending machine and robot technology, Conpipe will be able to create an entire automation cell around the T-DRILL collaring machine.
— Conpipe is an expert in utilizing robotics and automation. We are pleased that they plan on taking full advantage of our machine and making it a part of their highly automated and highly sophisticated production site, Harju says.
T-DRILL Offers Smooth Communication and Great Customer Service
According to Sjölander, communication between the companies has been smooth. T-DRILL has been quick to answer all of their questions throughout the project.
— T-DRILL provides excellent customer service. I am happy with our collaboration.
Harju also finds the companies' collaboration fruitful and is pleased with the successful delivery of the first S-56 machine. It has since attracted plenty of interest among customers.
— We have gotten off to a great start with the S-56 collaring machine. Delivering the first one to our Western brethren was a joy.
Read more about the S-56 Collaring Machine here!