FABTECH 2021 Chicago
North America's Largest Metal Forming, Fabricating, Welding and Finishing Event

13.09.2021 - 16.09.2021
McCormick Place in Chicago, Illinois | USA
#A4508
T-DRILL is exhibiting September 13-16, 2021 at FABTECH

in Chicago, Illinois 🇺🇸
Join us at Booth

#A4508

at
McCormick Place

to discuss and discover T-DRILL's latest tube fabrication innovations!

These innovations include e.g. T-DRILL's fully automatic Flanging Machine F-170 and two newly launched Industry 4.0 ready Collaring Machines: TEC-220 and S-56.

The Collaring Machine S-56 is designed for producing T-outlets for brazed and welded joints – both on straight and bent tubes. The machine enables three types of process: 1. Drilling/Collaring/Trimming, 2. Elliptical pilot hole and 3. Drilling/Collaring. Utilizing the latest technology, the S-56 is very versatile and easily customized to fit specific customer needs.

The TEC-220 is a powerful Collaring machine for up to SCH 40 pipes. The entire process –from pilot hole milling to a complete, trimmed branch outlet up to Ø219,1 mm (8") can be performed on a single workstation in three automatic work cycles. The sturdy, ergonomically designed machine is equipped with many safety features that make the TEC-220 safe and easy to operate even in the heaviest applications.
Welcome to visit us!
Use promo code: 10702005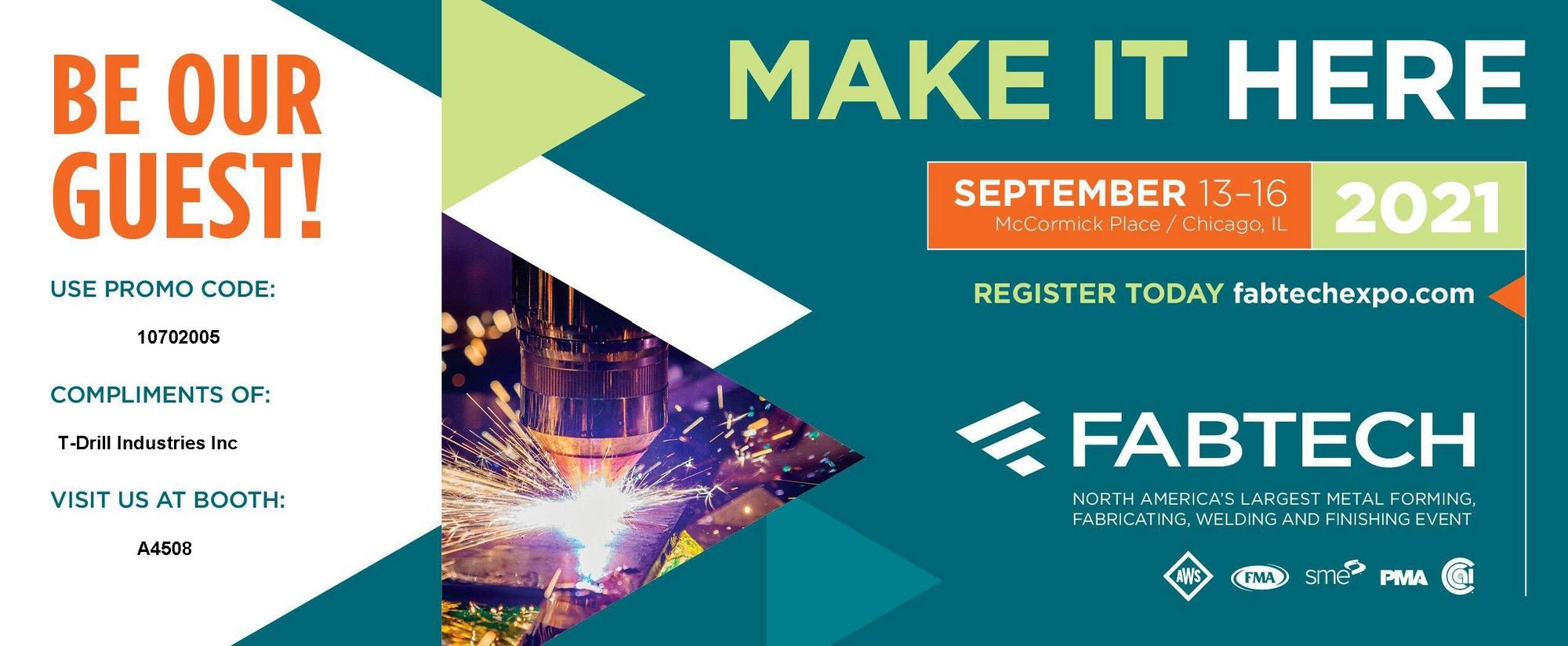 See the machines in action!
Below videos of the solutions – at FABTECH 2021 you are able to see live machine demonstrations throughout the whole exhibition!
COMPARISON: Welded Fittings vs T-DRILL Collaring & Flanging