T-DRILL Customized Tube Fabrication Solutions
T-DRILL offers flexible customized tube and pipe fabrication solutions for a vast variety of tubing needs. As a pioneer in the field, T-DRILL has the capability to create special machinery solutions to meet its customer's unique manufacturing requirements and to increase their productivity in a highly effective way. Here's few examples:
Heavy Collaring Cell for SF6 switch-gear applications
An example of delivered SF6 switchgear project machine: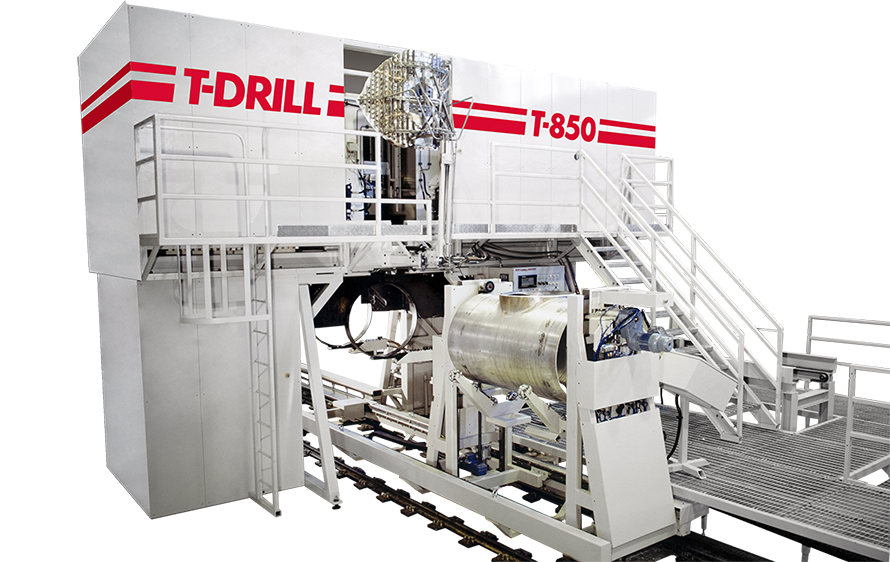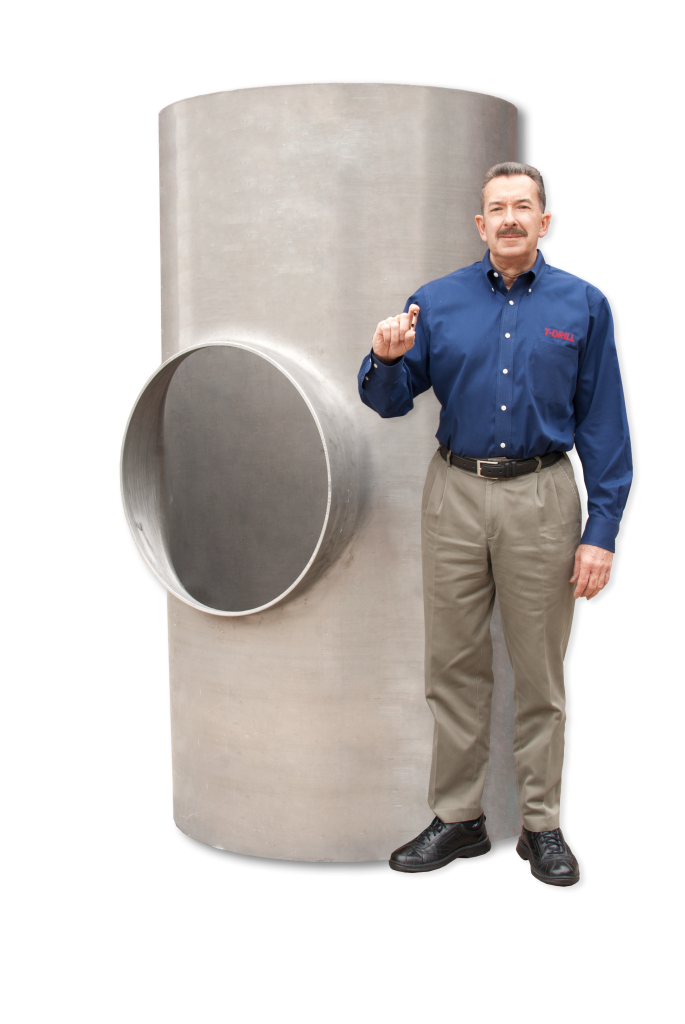 Principle:
In an electric power system, switchgear is composed of electrical disconnect switches, fuses or circuit breakers used to control, protect and isolate electrical equipment and high-voltage power lines.
In SF6 switchgear, the current interruption in a high-voltage circuit breaker is obtained by separating two contacts in a medium gas, such as sulfur hexafluoride (SF6).
According to customer needs, T-DRILL has developed the collaring cell for SF6 switchgear houses. After T-DRILL process, they are ready for next step (end flanges welding) in SF6 switch-gear production.
Key Features:
SF6 house (Pipe) handling, turning and positioning according to customers work piece.
T-DRILL heavy collaring process, maximum collar size ~850 mm (smaller model ~600 mm)
Cutting of pilot holes and trimming of the collars by Plasma cutter or Cutting blades.
Individual clamping molds for each run pipe/collar variant ensures the maximum quality.
Suitable materials e.g. Carbon steel, Stainless steel, Aluminum.
Pre-heating of a material by gas burners, if necessary.
Applicable switchgear voltage classes e.g. 35kV, 110kV, 220kV, 500kv.
Collaring Machine for Automotive Silencer Mass Production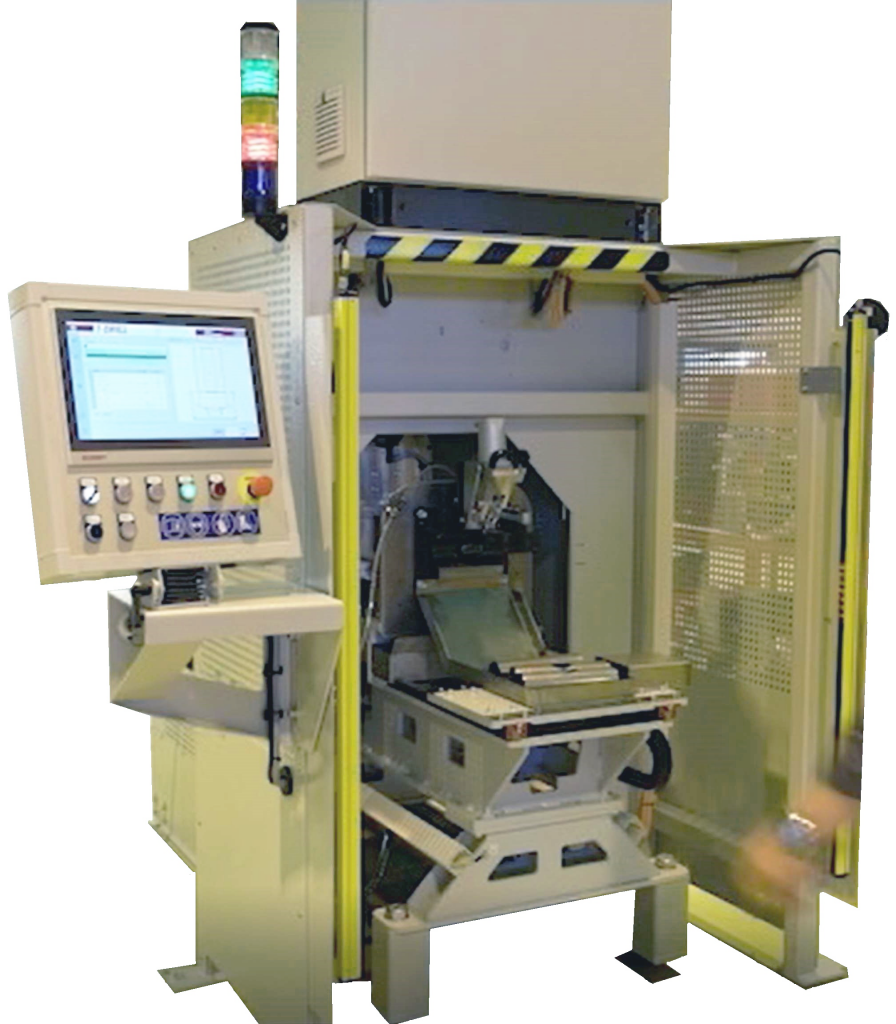 Principle:
In automotive silencer, there is outlet pipe for the exhaust gas. T-DRILL has created a special Collaring Machine for the cold forming of this hole. After T-DRILL process, customer will typically expand & weld the exhaust gas pipe to this hole fabricated by T-DRILL technology.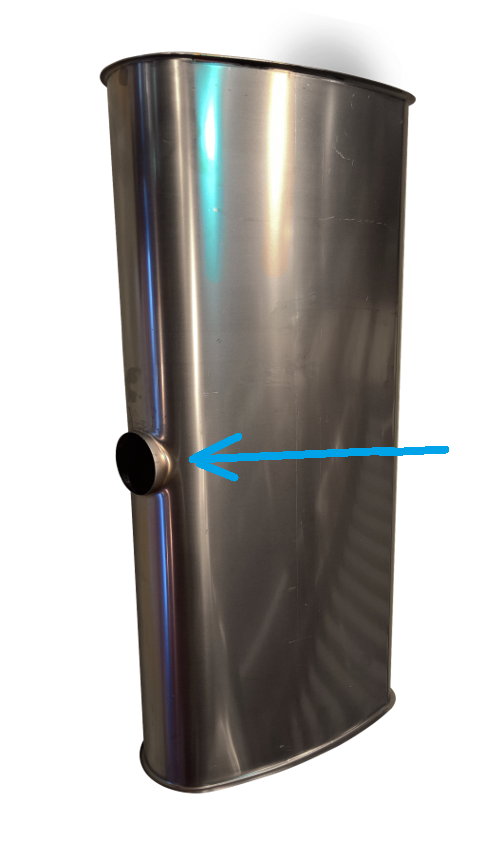 According to customer needs, T-DRILL will provide individual jigs for each model of exhaust silencer. The positioning and clamping is robust, quick & accurate.
Change over time from one silencer model to another takes minutes, not hours. Typical cycle time of the exhaust silencer production line is 20-30 seconds. In this time frame, all T-DRILL processes can be done, including the work piece change time.
Key Features:
Movable & centralizing clamp. After collaring process, the clamp will automatically move out from the collaring position to unload/load position.
The machine is equipped with the pair of light cell for the operator safety, CE mark.
Individual clamping jigs for each silencer model.
Quick change over time for clamping jigs and collaring tools.
One operator needed to operate this machine.
The machine identifies that the silencer is loaded in a right way prior the collaring process.
Suitable for Ferritic- and Austenitic Stainless Steel, single- or two material layers.
Prior the T-DRILL collaring process, customer typically cuts Pilot holes by laser or punching.
Suitable for common silencer models
Collar (hole) inner diameter, max ~Ø80 mm.
Connection for remote service/update.
High-Speed Automatic Collaring System for Steel Pipes | S-54 Double AFT
Principle:
T-DRILL S-54 AFT is the fastest industrial collaring machine in the world. The entire process (pilot hole drilling, collaring and trimming) can be done with one tool, in one process – it takes seconds, not minutes.
Many times e.g. in HVAC industry or steel heat exchangers, there are two hole sizes in one pipe to be collared – one bigger inlet and many smaller outlets. In this kind of application T-DRILL S-54 "Double Head AFT" is a perfect solution – with two working tools, both hole sizes can be collared and trimmed in one machine. After this T-DRILL process, the pipe is ready for butt welding.
Sometimes the customer has an extremely high production volume, with also 1:1 collars. Then the collaring process can be done even faster, if customer pre-cuts the pilot holes before the pipes comes to T-DRILL machine. In such a case one collar fabrication time can be even less than 10 seconds!
Key Features:
Fastest industrial collaring machine in the world
Automatic Collaring System to prepare steel pipes for butt welding
Two Collaring Units means extra fast process, since two different collar diameters can be produced in one machine
In many applications, only two collar diameter are needed in one pipe and after this one T-DRILL process, the pipe is ready for butt welding
Extremely fast 1:1 collaring (from pre-cut pilot holes)
Fast and accurate positioning system for pre-cut elliptical pilot holes
Special Flanging Machines for Larger Tubes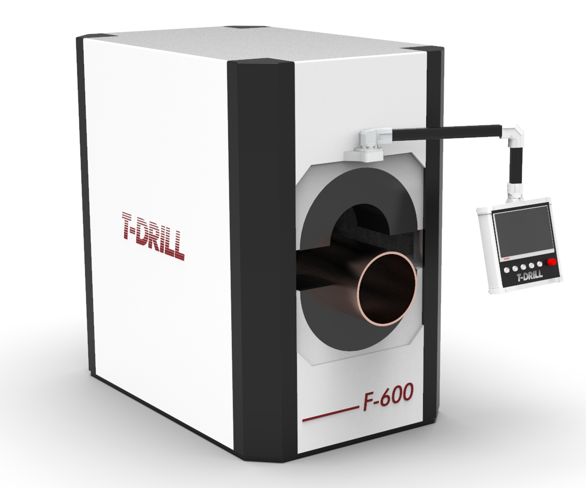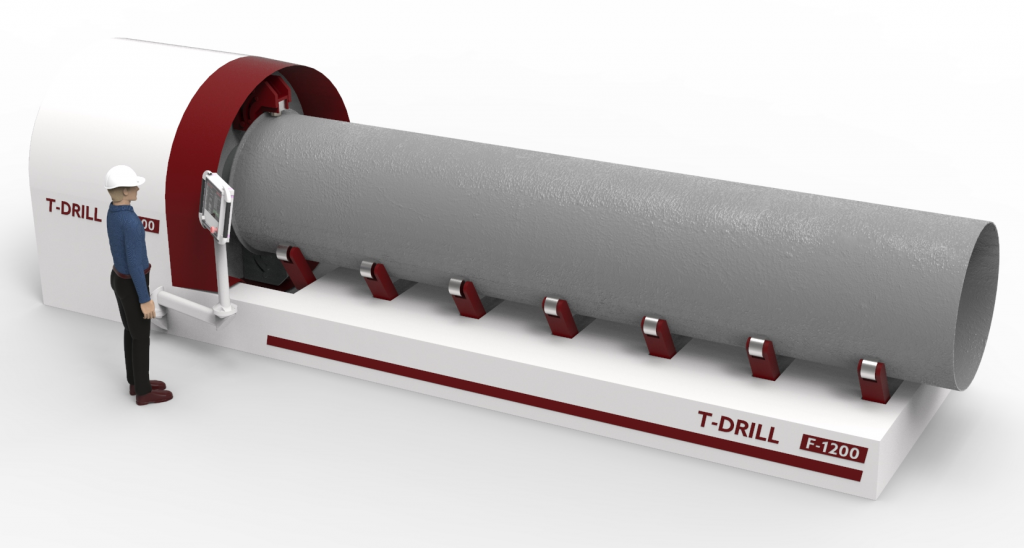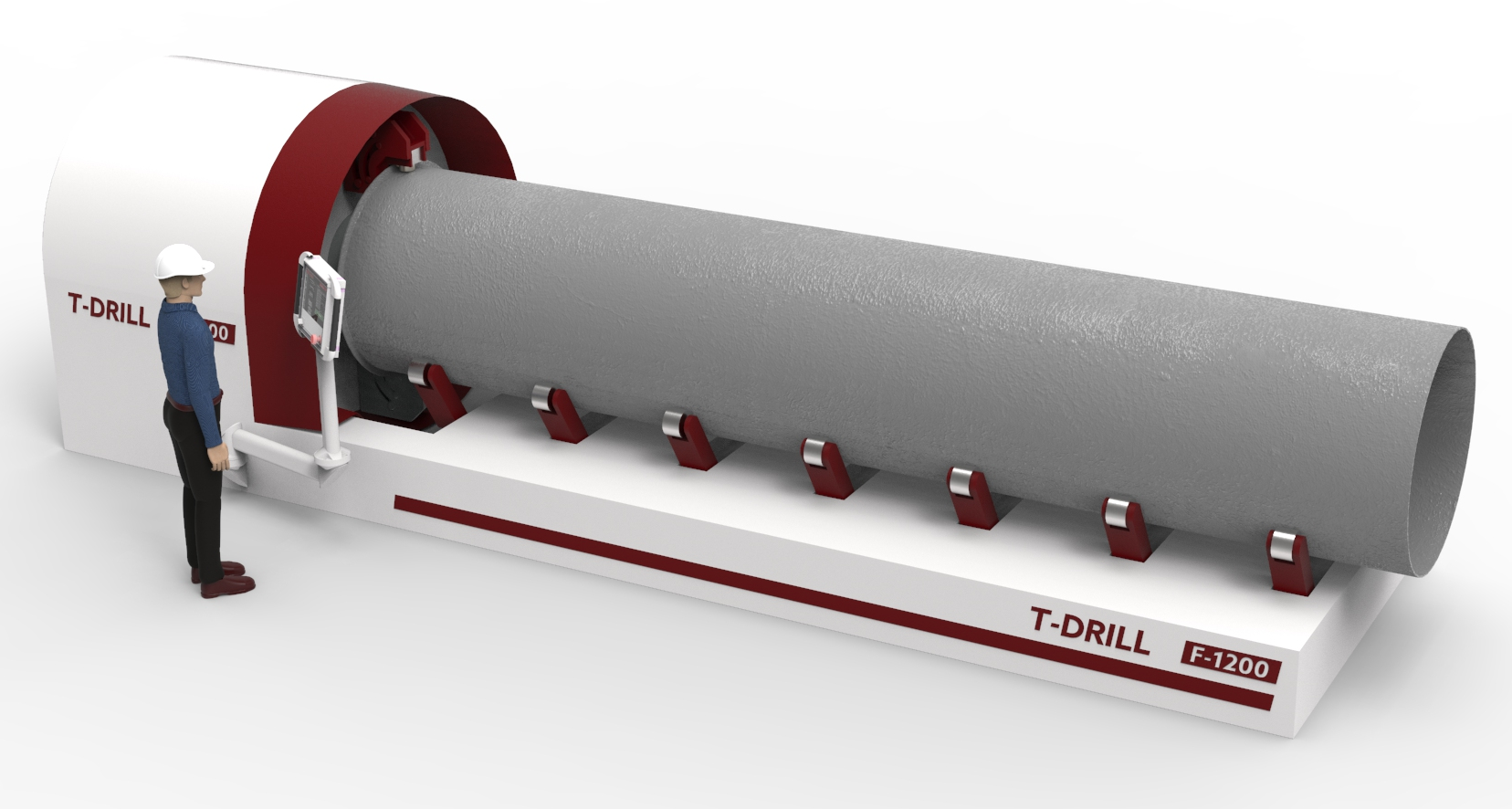 Principle:
With T-DRILL flanging technology, the flange joint can be fabricated very quickly and totally without welding. Therefore, for example X-ray inspection is not needed after flanging.
T-DRILL flanging technology has been widely in use in several industries (e.g. Process, Pulp and Paper, Chemical, Food and Brewery, Shipbuilding, Water and Waste water, District heating and cooling, Ventilation  and Stainless steel piping systems) already +30 years. Hence there are more than 100 of satisfied customers existing.
This T-DRILL technology has relevant standard approvals and the flange lips are formed according to dimensions defined by these standards.
In addition to T-DRILL standard flanging machines (up to DN 400 pipes), we are able to offer special flanging machines even for ~Ø1200 mm pipes or larger.
E.g. HVAC and aviation are typical industries where these larger special Flanging machines are needed.
In addition to 90 degree flanges, this new system will also provide e.g. 35-60 degrees flares. 
Key Features:
Flange joint can be executed totally without welding -> saves time, increase quality, no X-ray inspection, no stock fitting = much cost savings
No forming tool change, all pipe Ø sizes can be formed with same tool
For excellent quality, Individual pipe clamps needs to be changed for each pipe diameter
Suitable for all malleable materials e.g. Stainless steel, Carbon steel, Copper, CuNI, Aluminum.
Heating of material by gas burners, if necessary (especially with carbon steel)
Applicable for pipe wall thicknesses max ~10 – 12 mm steel (softer material can be greater)
Only "Vanstone" Flanging machine on the Market with capacity over 16 inch pipe diameter
Ultra-fast Cutting Machine with Flying Saw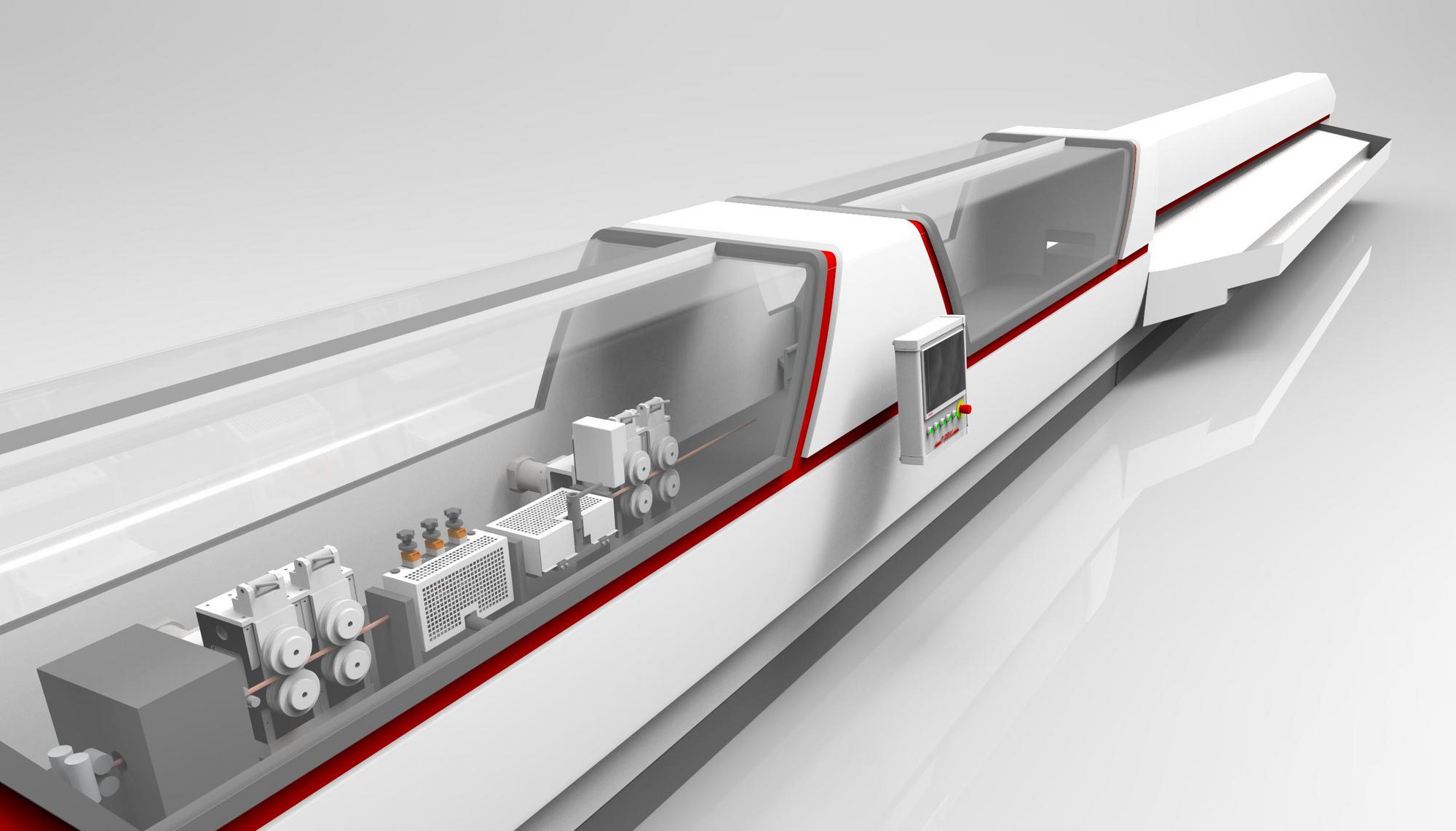 Principle:
In order to answer a customer need of ultra-fast cutting machine, we designed one with "Flying cutting" principle, where the coil is rotating constantly.
Tubes O.D. 4-12 mm are fed from horizontal coils (or directly from tube mill) and are cut by ultra-fast saw to lengths 300–10.000 mm. E.g. with O.D. 10 mm tube the max line speed is 160 m/min.
As an Industry 4.0. ready system, it provides countless possibilities. The system includes e.g. intelligent work queue handling and integration to the factory network, remote monitoring/trouble shooting from factory and/or from T-DRILL.
Key Features:
– Industry 4.0 ready
– Flying saw for tube diameters Ø4–12 mm
– Tubes from horizontal coils or directly from tube mill
– Cut lengths 300–10.000 mm
– Max. line speed 160 m/min with Ø 10 m tube
Automated Production Cell with cutting & bending machine, laser marking unit,
robot and conveyors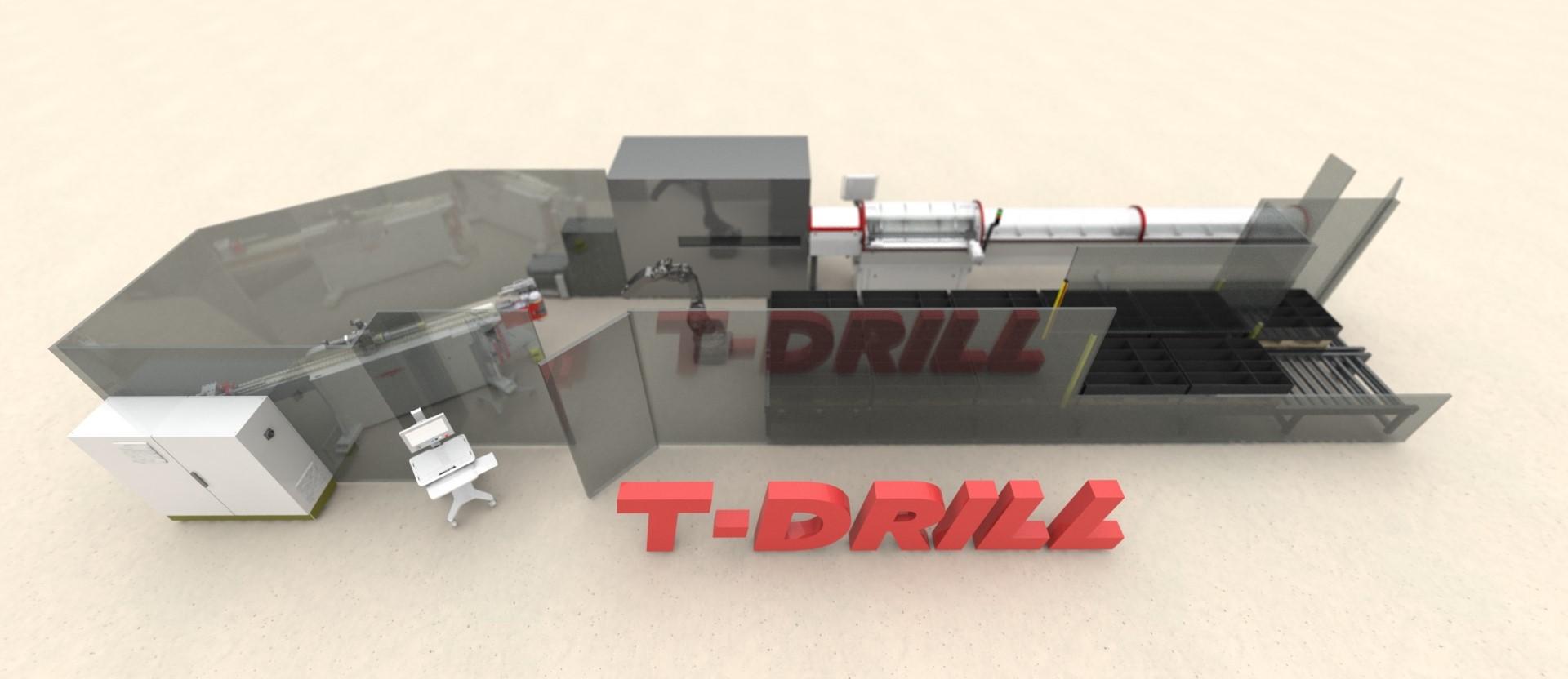 Intelligent Manufacturing Cell with integrated BIM Software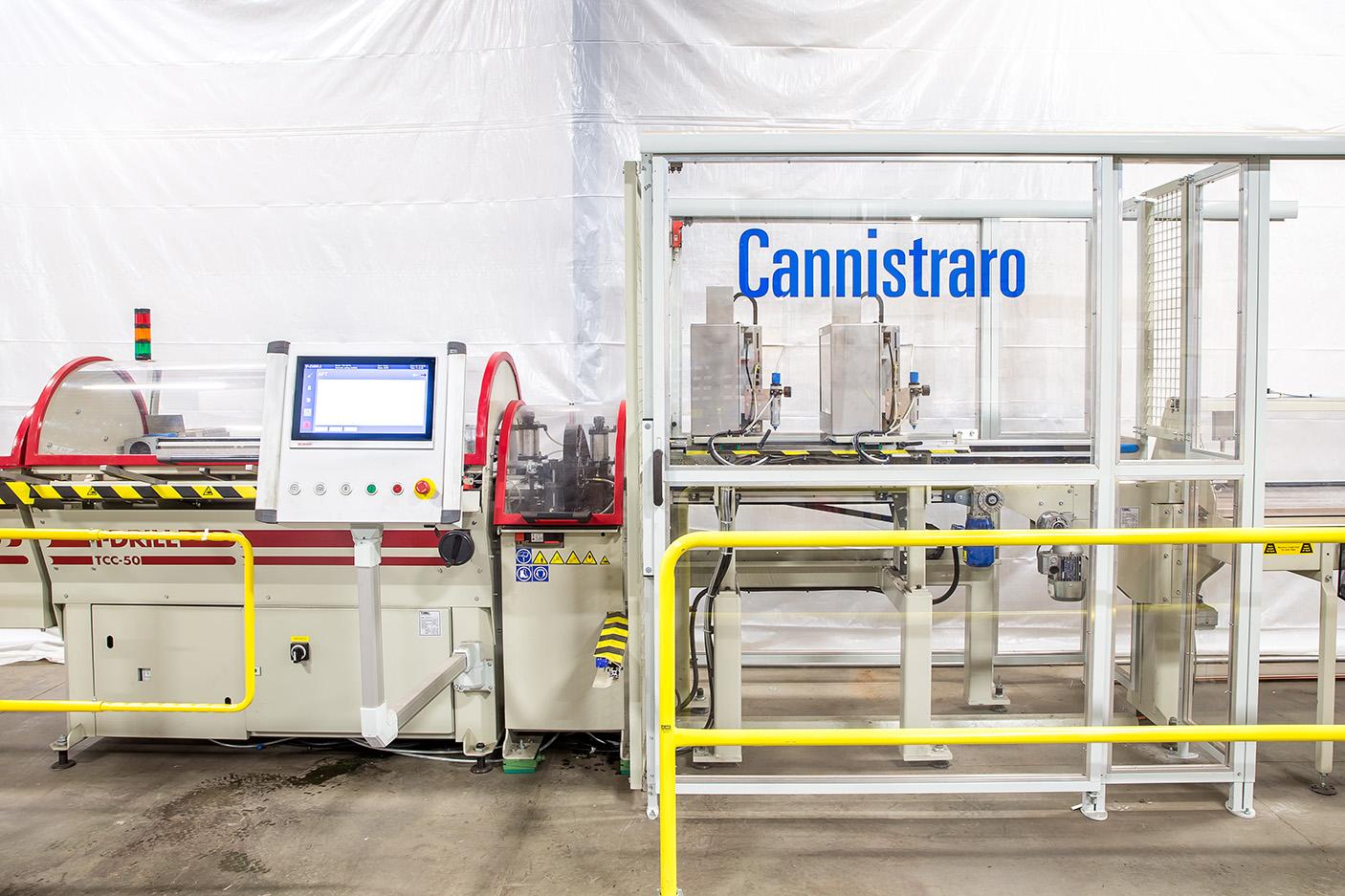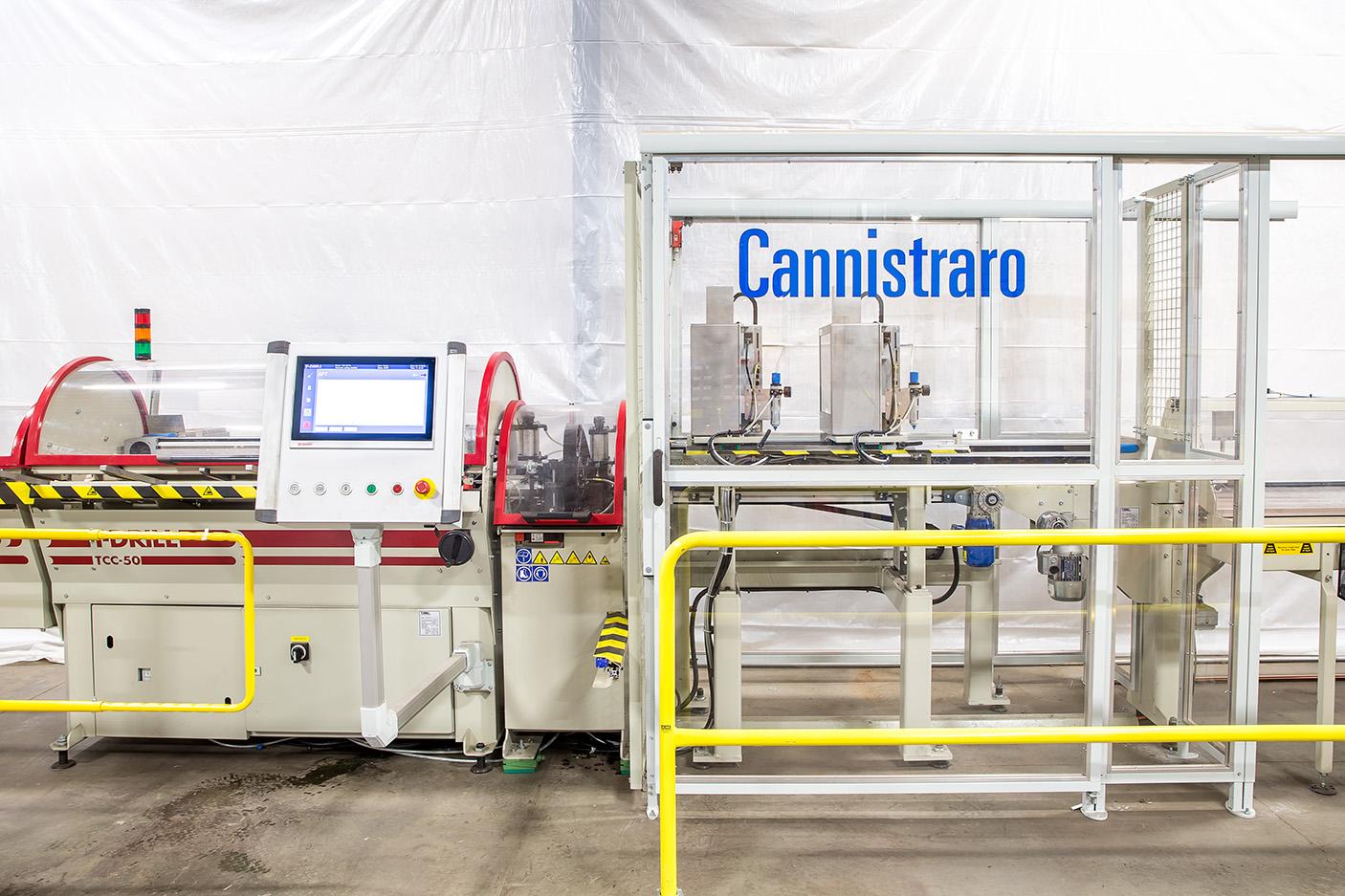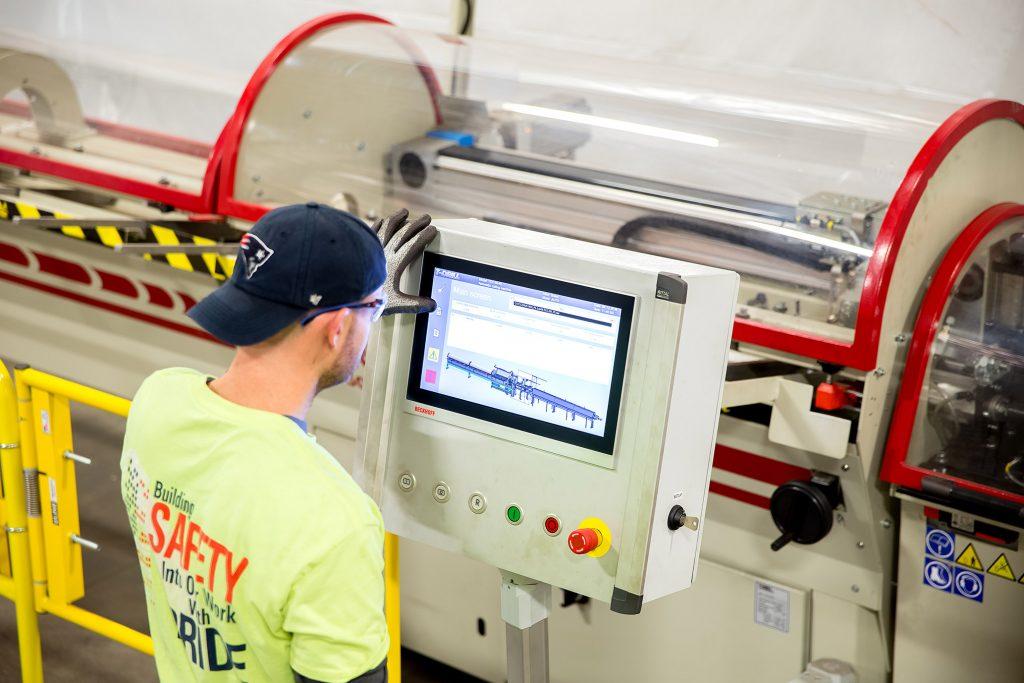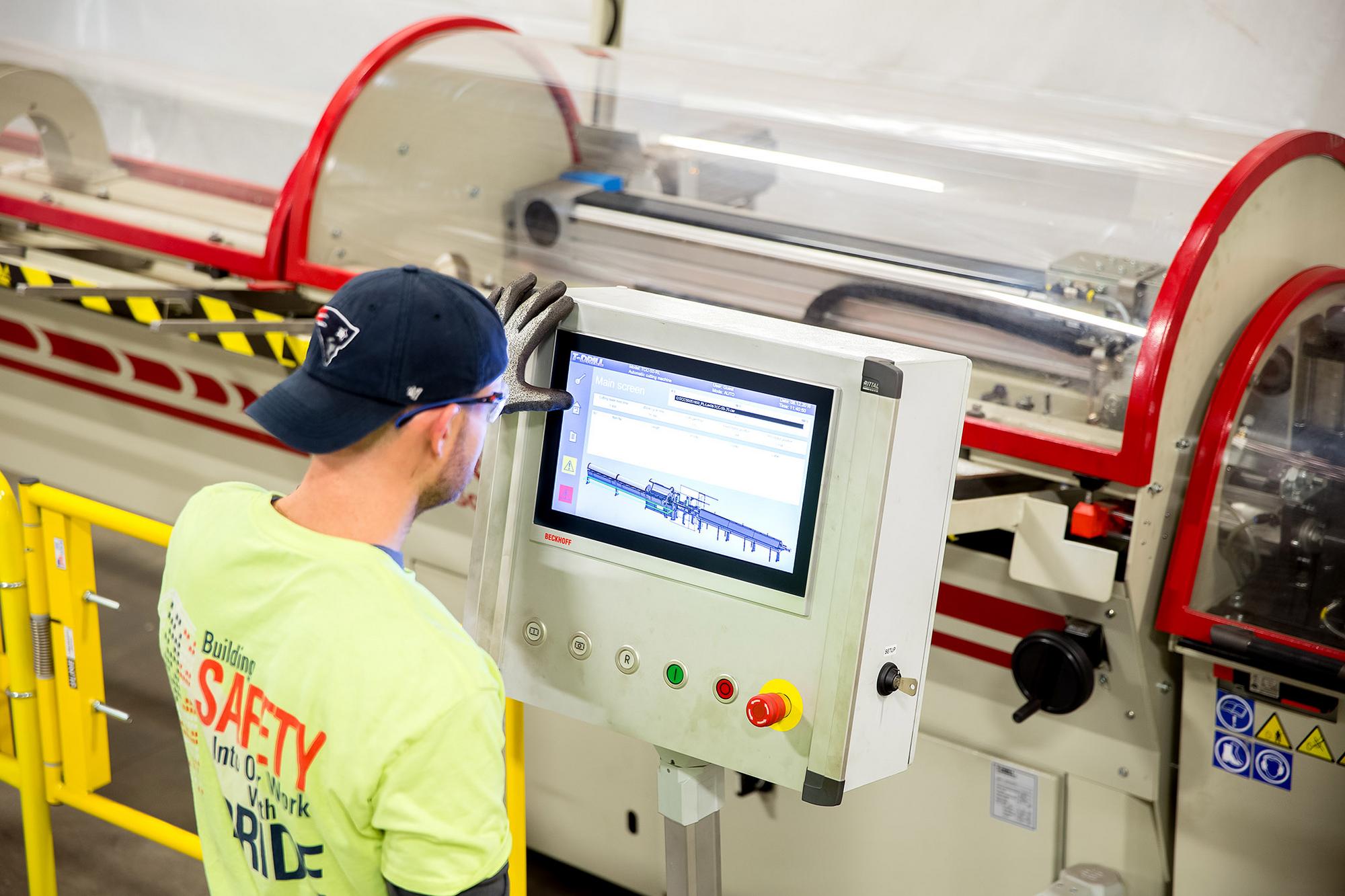 Principle:
Intelligent Manufacturing Cell with integrated BIM Software allows Automatic Programming of downstream systems. This Modular Cell greatly minimizes Labor required to pre-fabricate and identify tube assemblies for rapid Field Installation.
The customer is a Mechanical Contractor that utilizes Building Information Modeling (BIM) and other CAD packages to efficiently Design and Prefabricate tube assemblies that are scheduled, manufactured, and delivered to the jobsite at the exact time they are needed.
With the highly Automated TCC-50RL, S-54 AFT and the SP-110 Spinner, the company has been able to reduce Labor and Fitting costs far beyond the Capitol Investment in the Equipment.
Key Features:
The TCC-50RL cuts tubes to length, applies a data label to each end then sorts various cut lengths into respective collection points along the out-feed table.
The S-54 AFT scans the QR code on the data label and downloads the correct program for linear and radial Collar positions required on that tube.
The SP-110 is loaded, cycled, and un-loaded by a Collaborative Robot for Expansions, Reductions or full Closing needed on tube ends.
Tube Processing Cell with integrated Cutting, Storage & Deburring Systems
Principle:
Tube Processing Cell with integrated 6000 mm onboard Tube Storage and Deburring Systems. This Cell allows storage of 12 different tube diameters; tubes are automatically loaded and processed via CSV Files. This 4.0 ready System eliminates tube handling Labor and Programming errors.
The customer manufactures tube assemblies for Semi Trucks. They have asked for Quotation for a fully Automated tube storage and processing system.
We completed preliminary design on a system to store, deliver, and process material from 8 mm to 25 mm OD. A double brush de-burr system removes any remaining debris on the tube ends prior to discharge.
Key Features:
Straight length tubes up to 20 feet long are loaded by the Operator into the 12-position stocking/delivery system.
Code Scanner of the TCC-28 reads tube data from work list. Programs are downloaded via CSV files for processing.
Tubes are automatically loaded into the TCC-28 from stocking/delivery system, cut to length, then diverted either to a double end Brush De-Burr System or various positions along the out-feed table.
Optional Print and Apply Labeling or Ink-Jet printing are also available
Chipless Cutting Machine with End Forming & Brushing Devices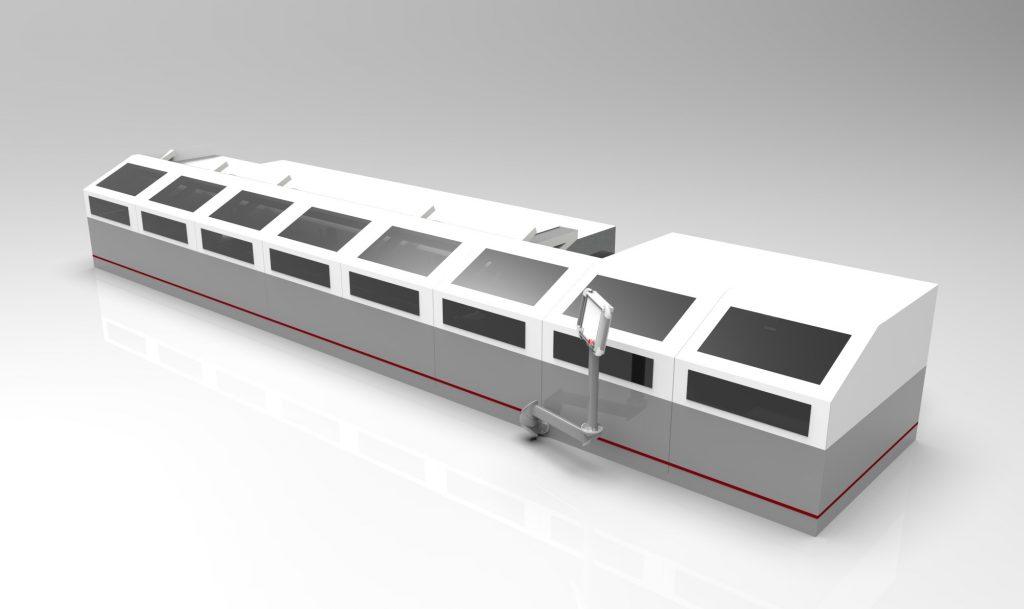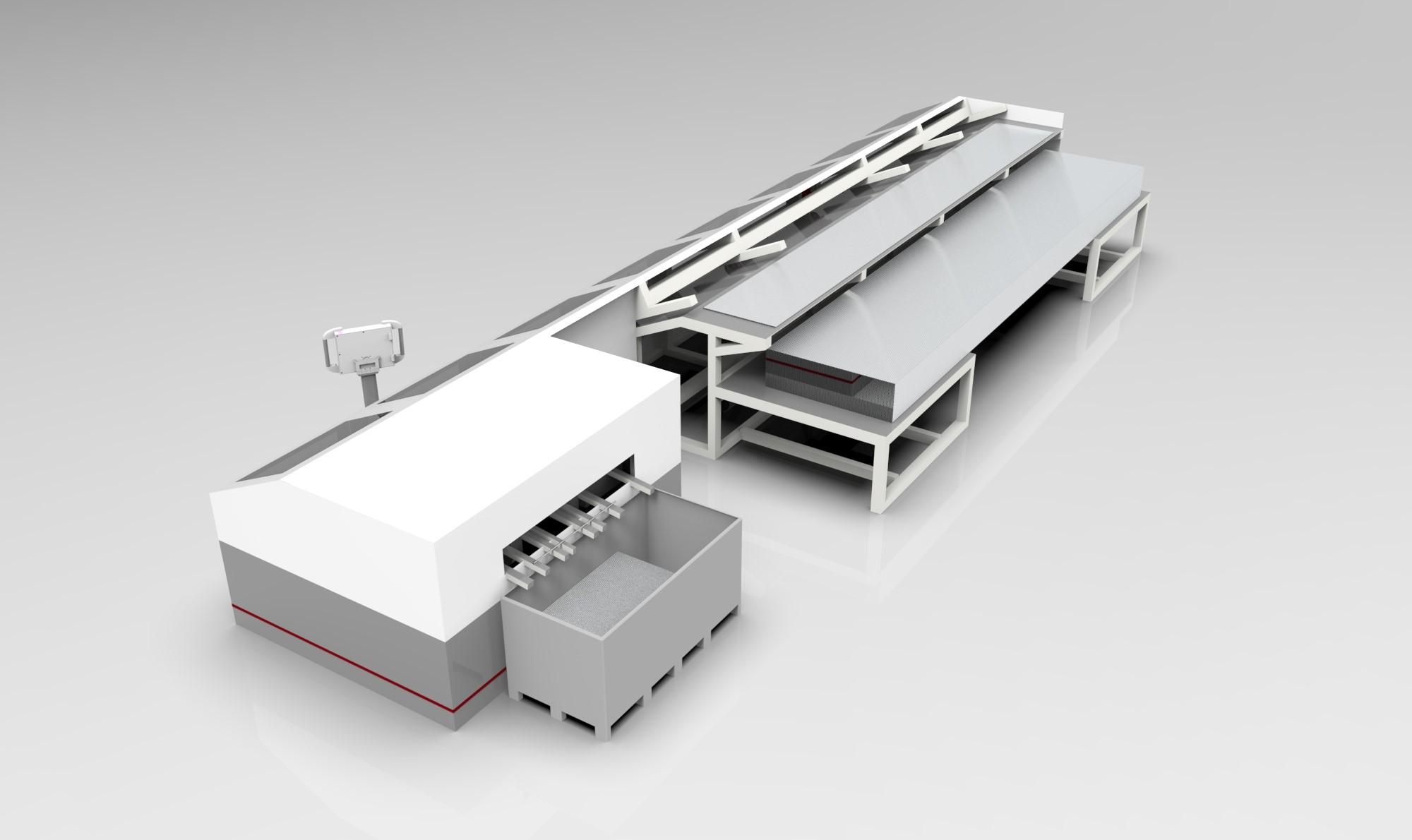 Principle:
T-DRILL Cutting Machine with in-line end-former can perform the cutting of tube simultaneously with grooving or end-forming (e.g. expanding, reducing, beading, flanging, flaring).
This T-DRILL machine integrates three functions: it cuts the tubes chiplessly, end forms expansion and brushes the tube ends fully automatically. The machine has also automatic rackloader for tubes in straight lengths.

Key features:
Best possible cutting quality with T-DRILL chipless cutting method
3 different work stages integrated to one machine for optimized productivity
Accurate cutting length tolerances (+/- 0.1 mm)
Fast 1,4 s cycle time
Several cutting lengths automatically
Suitable for aluminum, copper, stainless steel and steel
Chipless Cutting machine with End Forming & Nut Assembling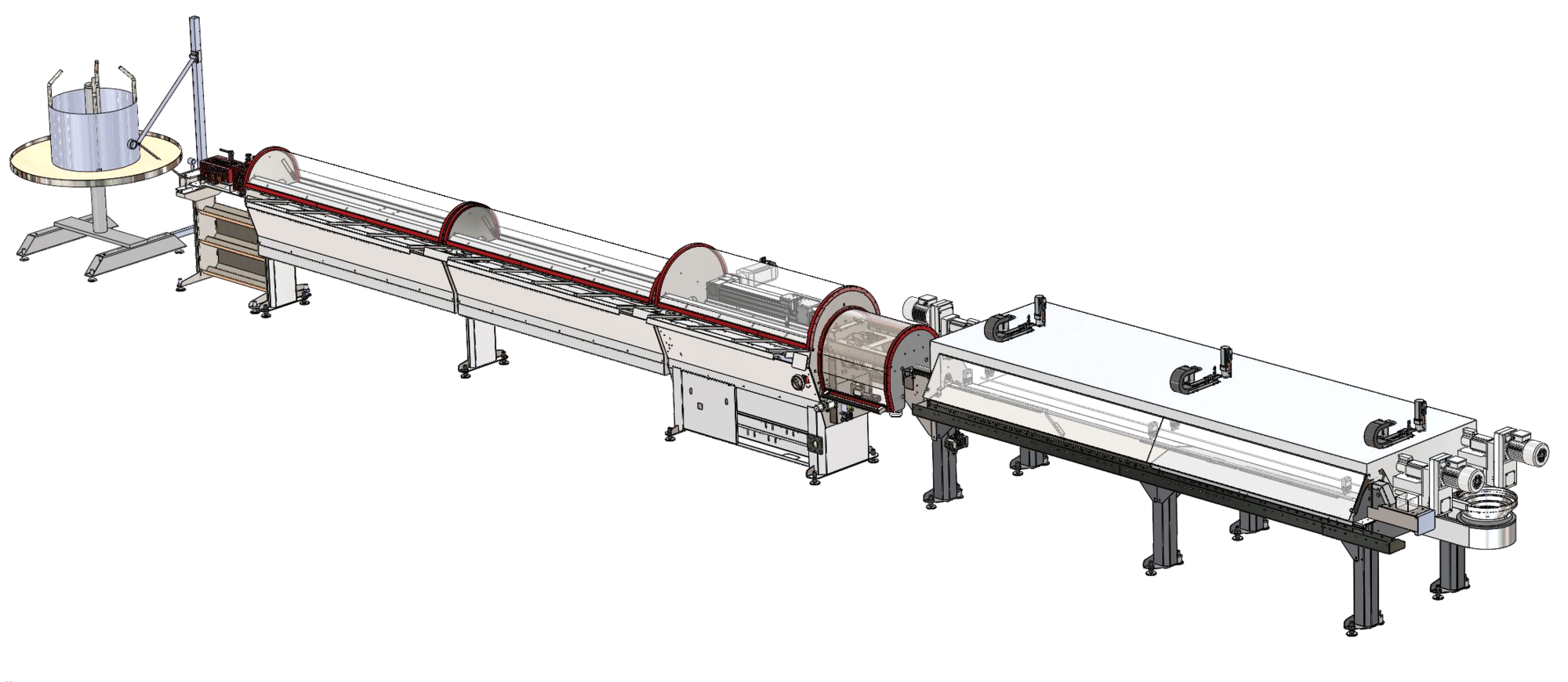 Principle:
Machine integrates four different functions: it cuts tubes chiplessly, peels insulation from both tube ends, insert nut to other end and end forms flange to tube end. All these functions are fully automatic.

Machine has tube decoiling device for tubes from coil and rackloader for straight lengths.
Key features:
Best possible cutting quality with T-DRILL chipless cutting method
4 different work stages integrated to one machine for optimized productivity
Accurate cutting length tolerances (+/- 0.1 mm)
Several cutting lengths automatically
Suitable for aluminum, copper, stainless steel and steel
Chipless Cutting Machine for Bent Tubes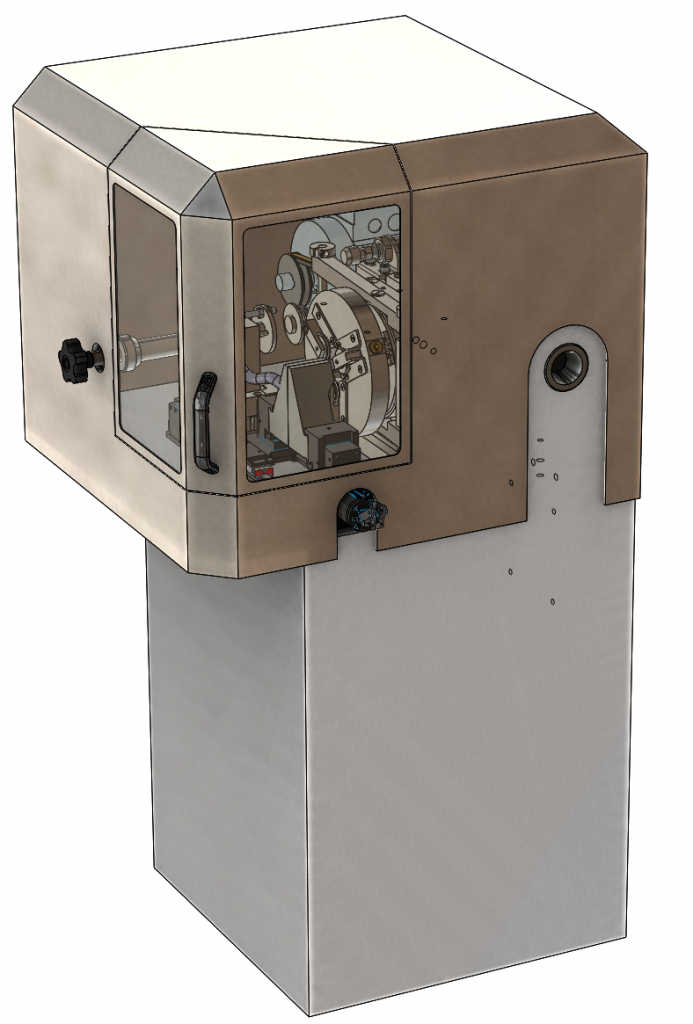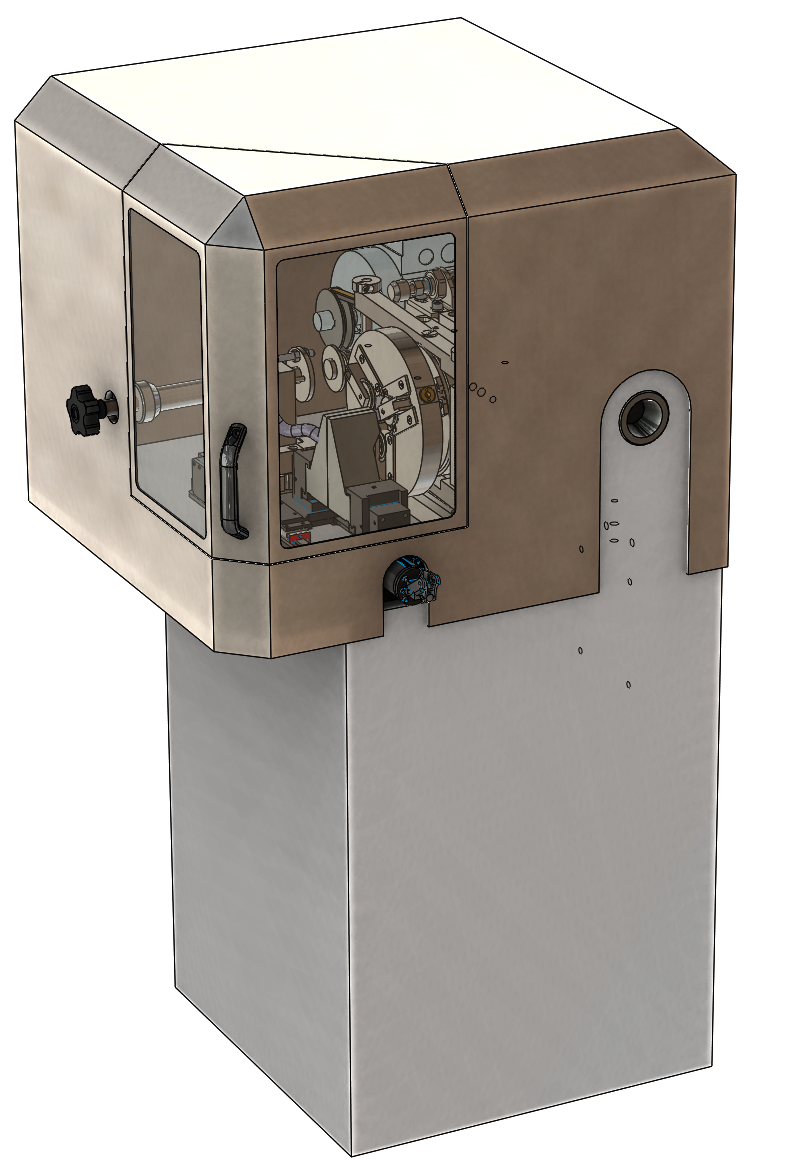 Principle:
As some customers have a need to cut the tube to its final length after bending, T-DRILL offers a simple quality solution for that. 
The manual chipless cutting operation is used for cut lengths of minimum 35 mm. The tube is mounted to the machine "opposite" way.
The tube end that is to be cut goes inside of the cut-off head and after some cuts, the cut parts falls from the other side of the cut-off head to a collecting box.
Key Features:
Suitable for bent tubes with min. 35 mm straight length
Excellent quality with T-DRILL chipless cutting method
Simple and quiet operation
Suitable for aluminum, copper, stainless steel and steel