S-56, Watts Water Technologies, USA
Professional Solution Service and High-Quality Machines Have Kept Bringing Watts Water Technologies Back to T-DRILL for Over 20 Years
Founded in 1874, Watts Water Technologies is an American company specializing in water-related solutions. Their solutions are designed for applications such as drainage, plumbing and flow control, water quality and rainwater harvesting as well as HVAC and hot water. Watts Water Technologies employs over 4,000 people. The company's revenue in 2021 was over $1,8B.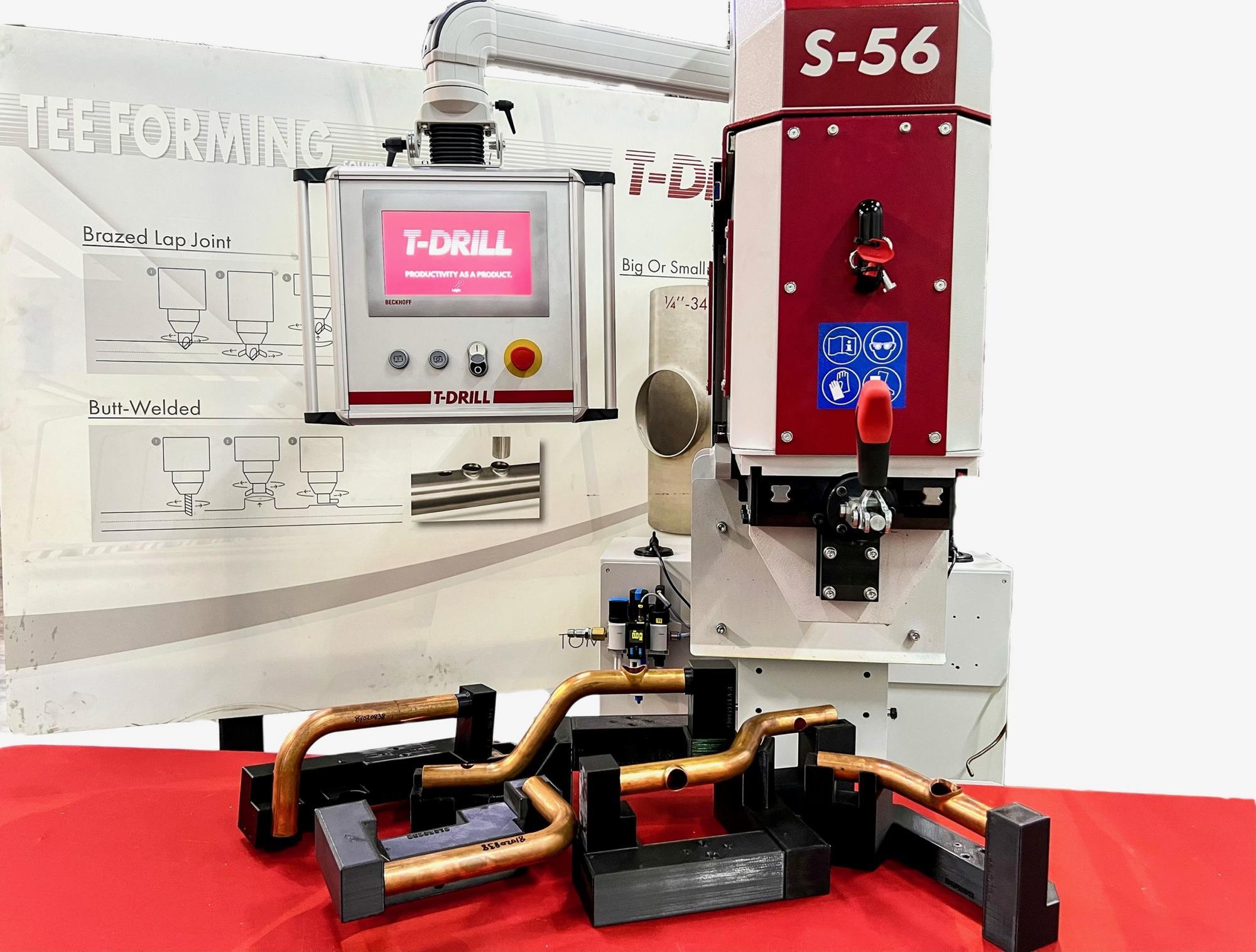 Watts Water Technologies has been T-DRILL's customer for over 20 years. Over the years, the company has acquired a wide range of T-DRILL machines for collaring, spinning, branching and cutting. Their most recent purchase is the S-56 collaring machine.
— The S-56 has the level of performance we require: it is fast, accurate and produces excellent quality. It is also smaller than some of the competitors, so it does not take up as much space, says Michael Vealey, Senior Manufacturing Engineer at Watts Water Technologies.
The S-56 also has the ability to fit multiple types of fixtures. T-DRILL has been working together with a 3D printing company to produce a total of 28 different bent tube fixtures for Watts Water Technologies to use with their brand-new machine.
— The fact that T-DRILL was able to provide these printed fixtures for us is very important. We manufacture parts that are different sizes and angles by the millimeter, so we need a variety of fixtures to able to respond to our customers' needs. These fixtures are made of high-impact plastic, which is more cost-effective than aluminum.
The new S-56 and the 3D-printed fixtures are now waiting for final run-off. According to Vealey, T-DRILL's service throughout the process has been nothing but professional.
— We have been kept aware of everything: needs, problems, all. Everything has been covered. T-DRILL has done a great job.
T-DRILL Offers Quick, Immediate and Professional Solution Service
Over the past two decades, T-DRILL has continuously succeeded in offering Watts Water Technologies immediate, professional, and quick solution service.
— We can make a call on Monday and have a T-DRILL engineer fixing the problem on Wednesday. The machines have the kind of mechanics that require expert knowledge. T-DRILL engineers know their business and are able to fix things very quickly.
In addition to speedy service, Vealey appreciates the quality of T-DRILL products. When the customer does not have to perform any secondary operations, the machines' ROI is less than current industry standards.
— Some older cutting machines might, for example, leave chips on the tube that you would have to clean off. If you fail to clean them off properly, the tube can split when brought into use. With T-DRILL chipless cutting, the chances for this happening are diminished.
The Future Holds a Turnkey Production Cell and Expanding Cooperation
T-DRILL and Watts Water Technologies already have their next new project on the way. They plan to connect a CNC automated bender, a T-DRILL TCC-28 collaring machine, an end former and a robot into a turnkey production cell.
— A production cell like this just continues producing, increasing our production capacity. It is good to have partners in this. T-DRILL is in contact with the bending company and I know that there is plenty of knowledge on both sides.
In the future, Watts Water Technologies is expanding their operations by opening a new production facility in Nogales, Mexico.
— The people I have spoken to down in Mexico seem to like working with T-DRILL, and so do we. T-DRILL provides us the kind of solutions only a few in the world can, so we are more than happy to continue our cooperation in the future.
Read more about Watts Water Technologies
Interested in the S-56? Read more!
Published: November 3, 2022