Faster manifold collaring than ever before
T-DRILL Fully Automatic Collaring Machine SEC-115 with automatic tool changer for five different collaring tools makes the production of manifolds with multiple collar diameters easier, faster, and more productive than ever before. SEC-115 is suitable for stainless steel, steel, copper, and aluminum manifold production.
The high-speed SEC-115 operates by moving according to the program along the tube length, while the pipe is rotated when needed.
The SEC-115 has a fully automatic collaring cycle:
1. Pilot hole milling
2. Collar forming and
3. Trimming for the collars to be welded
THE T-DRILL PROCESS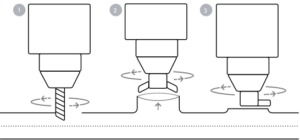 While the pilot hole milling unit works, collaring unit collects simultaneously the correct collaring tool from the magazine and starts collaring instantly when the pilot hole is ready. The collaring tool is adjusted automatically according to programmed collar diameter, so no manual tool adjustment is needed.

SEC-115 made this manifold in less than 10 minutes.
SEC-115

Applications
Stainless steel manifolds especially with multiple collar diameters.​
Potential industries for SEC-115
​Key Features
Industry 4.0 / TD-Vault ready

Fully Automatic Collaring machine with automatic tool changer and 

automatic adjustment of collaring heads for faster collaring than ever

Tool magazine for five collaring tools

​

Dramatically reduce labor and increase production volume

​

Tee ratio variation flexibility

​

Smaller chance of leakage

​

Only one welding joint

​

Less tube cutting

​

No T-fittings

​

Adjustable collar diameter

 

for welding tolerance

 

​

Smaller carbon footprint with 66% reduction in weld joints

Minimal floor space requirement
Ayrıca şunlara da ihtiyacınız olabilir::