Faster manifold collaring than ever before
Machine de piquage entièrement automatique SEC-115 de T-DRILL avec changeur d'outils automatique pour cinq outils de formage de collet distincts rend la production de manifolds de différents diamètres de collet plus facile, plus rapide et plus productive que jamais. La machine SEC-115 convient à la production de manifolds en acier inoxydable, en acier, en cuivre et en aluminium.
La machine à grande vitesse SEC-115 fonctionne en se déplaçant sur la longueur du tube conformément au programme, tandis que le tube est tourné lorsque cela est nécessaire. La machine SEC-115 dispose d'un cycle de formage de collet entièrement automatique :
Fraisage du trou à extruder
Formage du collet et
Rognage pour que les collets soient soudés
THE T-DRILL PROCESS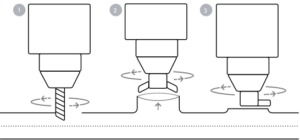 Pendant que le dispositif de fraisage du trou pilote travaille, le dispositif de formage de collet récupère l'outil de formage de collet approprié dans le magasin. Ainsi, dès que le trou pilote est prêt, l'outil de formage commence immédiatement le formage du collet. L'outil de formage de collet est automatiquement réglé en fonction du diamètre de collet programmé, de sorte qu'aucun réglage manuel de l'outil n'est nécessaire.

La SEC-115 a fabriqué ce manifold en moins de 10 minutes.
SEC-115

Applications
Stainless steel manifolds especially with multiple collar diameters.​
Potential industries for SEC-115
​Key Features
Industry 4.0 / TD-Vault ready

Fully Automatic Collaring machine with automatic tool changer and 

automatic adjustment of collaring heads for faster collaring than ever

Tool magazine for five collaring tools

​

Dramatically reduce labor and increase production volume

​

Tee ratio variation flexibility

​

Smaller chance of leakage

​

Only one welding joint

​

Less tube cutting

​

No T-fittings

​

Adjustable collar diameter

 

for welding tolerance

 

​

Smaller carbon footprint with 66% reduction in weld joints

Minimal floor space requirement
Vous avez peut-être également besoin de: