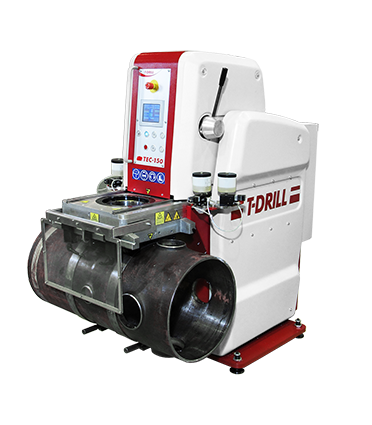 Tamaños de collarín: 21,3 a 168,3 mm
Tamaños de tubo principal: 33,7 a 550 mm
Material del tubo: Aluminio, acero al carbón, acero inoxidable, acero
Tipo de máquina: Máquinas industriales
Proceso: Colocación de collarines

TEC-150 HD Heavy Duty Collaring Station
TEC-150 HD es la máquina de colocación de collarines más poderosa para tuberías Schedule 40. Se pueden hacer collarines en tubos con un espesor de pared de hasta 12,7 mm. El tamaño máximo de diámetro de collarín es de 168,1 mm. En las tuberías Schedule 40 significa que los collarines pueden fabricarse con tubos de pasada de hasta 406,4 mm de diámetro. En tubos Schedule 40 más grandes, la pared del tubo es más gruesa.
El proceso entero desde el fresado de orificios piloto hasta la rama completa y biselada puede realizarse en una sola estación de trabajo.
Video of the basic TEC-150 Collaring machine.