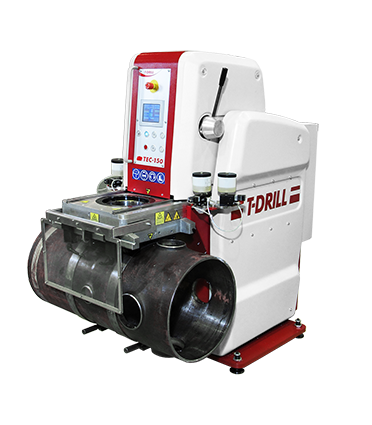 Collar sizes: 21,3–168,3 mm
Run tube sizes: 33,7–550 mm
Pipe material: Aluminium, Carbon steel, Stainless steel, Steel
Machine type: Industrial machines
Process: Collaring
TEC-150 HD Heavy Duty Collaring Station
TEC-150 HD is the most powerful collaring machine for Schedule 40 pipes. You can make collars on tubes with wall thickness up to 12,7 mm. Maximum collar size is Ø 168,1 mm on 406,4 mm run tubes in Schedule 40 pipes on standard machine.
Entire process from pilot hole milling to a complete, beveled branch can be performed in a single workstation.
Video of the basic TEC-150 Collaring machine.
COMPARISON: Welded Fittings vs T-DRILL Collaring & Flanging