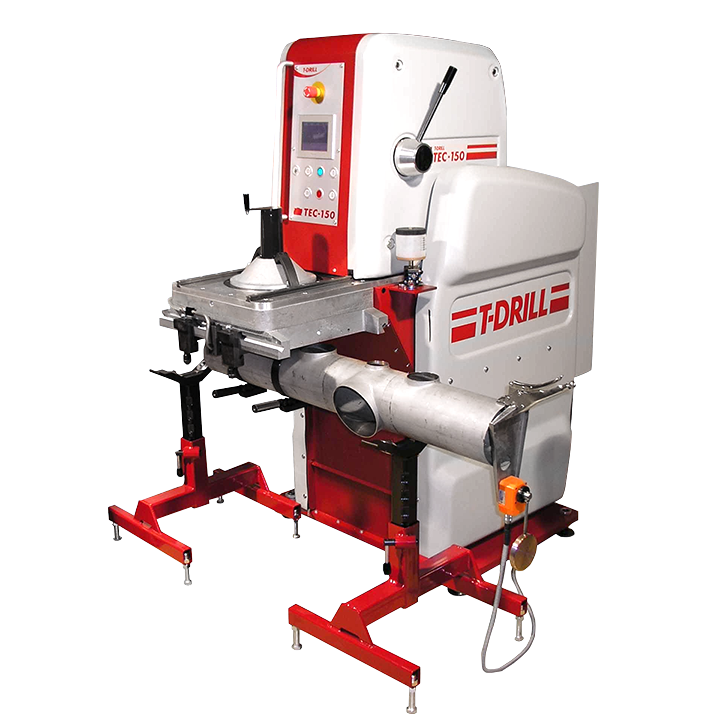 Tamaños de collarín: 21,3-219,1 mm
Tamaños de tubo principal: 33,7 a 550 mm
Material del tubo: Aluminio, acero al carbón, acero inoxidable, acero
Tipo de máquina: Máquinas industriales
Proceso: Colocación de collarines
Máquina de colocación de collarines TEC-150-8 de T-DRILL
La gama de colocación de collarines de la máquina TEC-150-8 se extiende hasta 219,1 mm en tubos de pasada de 33,7 a 550 mm.  La máquina realiza el orificio piloto elíptico, forma un collarín sobre el tubo principal y lo recorta hasta 168,3 mm. Los agujeros piloto más grandes que el collarín de 168,3 mm se queman manualmente, por ejemplo, con un cortador de plasma antes de colocar el tubo en la máquina.
Modificaciones respecto a la máquina básica TEC-150:
Unidad de recorte más grande, brazo Jib y dispositivo de posicionamiento para centrar el orificio piloto/tubo principal en la máquina.
Husillo de máquina más grande
La máquina estándar no se puede readaptar a la capacidad de 219 mm.
Video of the basic TEC-150 Collaring machine.
You might also need: