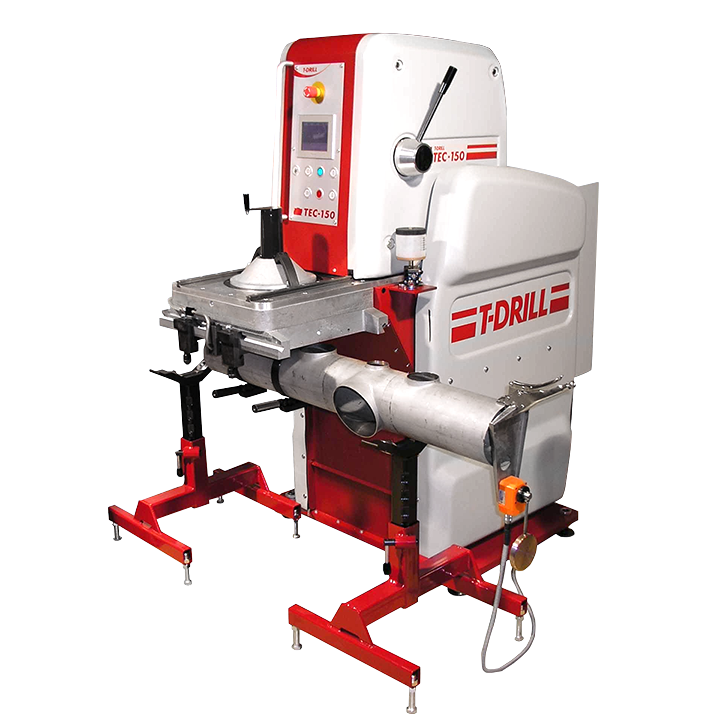 Diamètres de collet : 21,3–219,1 mm
Diamètres du tube principal : 33,7-550 mm ; Modèle spécial Ø 800 mm disponible
Matériel du tube : Aluminium, Acier au carbone, Acier inoxydable, Acier
Type de machine : Machines industrielles
Procédé : Formage de collet
TEC-150-8 Machine de piquage
La gamme de diamètre de collet de la machine TEC-150-8 s'étend jusqu'à 219,1 mm sur des tubes principaux de diamètre compris entre 33,7 et 550 mm.  La machine réalise le trou à extruder elliptique, forme le collet sur le tube principal et rogne le collet à une hauteur de 168,3 mm. Les trous à extruder plus grands que les collets de 168,3 sont réalisés manuellement, par exemple avec un plasma (ou un laser) avant de placer le tube sur la machine.
Modifications en comparaison à la machine standard TEC-150 :
Unité de surfaçage (dressage), bras de support et dispositif de positionnement pour le centrage du trou à extruder / du tube principal plus grands.
Broche de la machine plus grande
La machine standard ne peut pas être améliorée pour former des collets de diamètre de 219 mm
Video of the basic TEC-150 Collaring machine.
You might also need: