TEC-150-8 HD Heavy Duty Collaring Station
T-DRILL TEC-150-8 HD is the most powerful collaring machine for Schedule 40 pipes. You can make collars on run tubes with wall thickness up to 12,7 mm up to 168,3 mm. The bigger branch size Ø 219,1 mm is limited to max. 6,3 mm wall thickness.
TEC-150 HD Collaring Station is now stronger and easier to handle than ever! Entire process from pilot hole milling to a complete, beveled branch can be performed in a single workstation.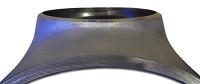 Collars can be formed in most ductile materials, including stainless steel, carbon steel, copper/nickel, brass and aluminium. Depending on the material thickness and elongation, collars can be made for SCH 40 pipes according to the capability chart shown in 'Technical Information'.
Video of the basic TEC-150 Collaring machine:
COMPARISON: Welded Fittings vs T-DRILL Collaring & Flanging