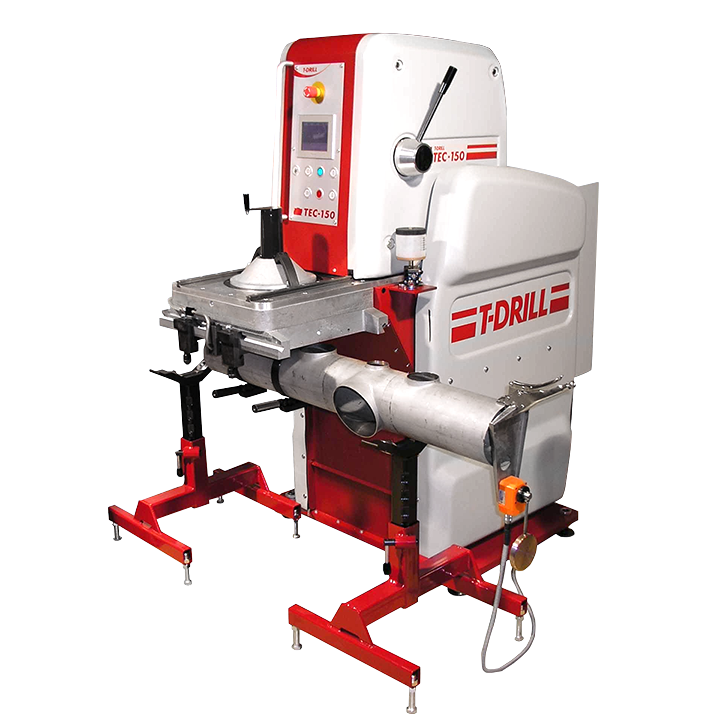 Aushalsdurchmesser: 21,3 – 219,1 mm
Grundrohr: 33,7 – 550 mm
Material: Aluminium, Kohlenstoffstahl, Edelstahl rostfrei, Stahl
Maschinentyp: Industriemaschinen
Prozess: Aushalsen
TEC-150-8 Aushalsmaschine
Die TEC-150-8 kann Aushalsungen von bis zu 219,1 mm in Grundrohren mit 33,7 – 550 mm Durchmesser herstellen. Die Maschine fräst ein elliptisches Vorloch, formt eine Aushalsung im Grundrohr und dreht sie plan auf bis zu 168,3 mm. Vorlöcher für mehr als 168,3 mm Aushalsungsgröße werden manuell gebrannt, z. B. mit einem Plasmaschneider, bevor das Rohr in die Maschine eingelegt wird.
Im Vergleich zur Grundausführung der TEC-150 sind folgende Modifikationen vorhanden:
Plandreheinheit, Schwenkarm und Positionierungsvorrichtung zum Zentrieren des Vorlochs/Grundrohrs in der Maschine sind größer.
Größere Maschinenspindel
Die Standardausführung kann nicht für die Herstellung von 219-mm-Aushalsungen nachgerüstet werden.
Video of the basic TEC-150 Collaring machine.
You might also need: