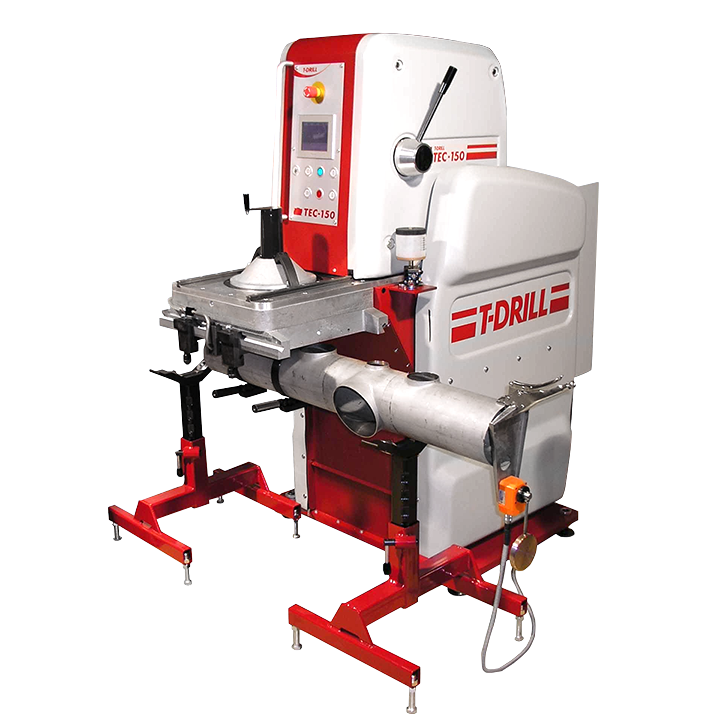 Dimensioni del collarino: 21,3–219,1 mm
Dimensioni del tubo principale: 33,7–550 mm; modello speciale Ø 800 mm a richiesta
Materiale per tubi: Alluminio, acciaio al carbonio, acciaio inossidabile, acciaio
Tipo di macchina: Macchine industriali
Processi: Formatura collarini
Macchina per collarini su tubi T-DRILL TEC-150-8
La capacità di esecuzione collarini della macchina TEC-150-8 si estende fino a 219,1 mm su tubi principali da 33,7 – 550 mm. La macchina esegue il foro pilota ellittico, forma un collarino dal tubo principale e spiana il bordo fino a 168,3 mm. I fori pilota più grandi di quelli per il collarino 168,3 vengono eseguiti manualmente, ad es. con un taglio al plasma, prima di posizionare il tubo sulla macchina.
Modifiche rispetto alla macchina base TEC-150:
Unità di spianatura più grande, centratore per foro pilota sul tubo principale
Mandrino più grande
La macchina TEC-150 standard non può essere adattata alla capacità di 219 mm.
Video of the basic TEC-150 Collaring machine.
CONFRONTO: Giunti Saldati <=> Collarini e Flange T-DRILL
You might also need: