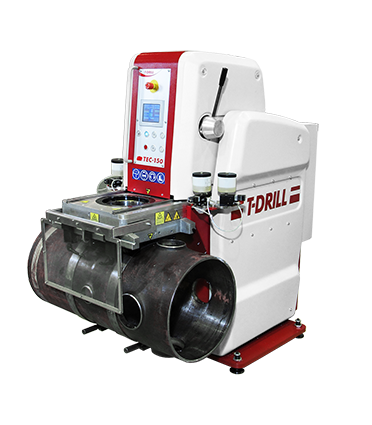 Dimensioni del collarino: 21,3–168,3 mm
Dimensioni del tubo principale: 33,7–550 mm; modello speciale Ø 800 mm a richiesta
Materiale per tubi: Alluminio, acciaio al carbonio, acciaio inossidabile, acciaio
Tipo di macchina: Macchine industriali
Processi: Formatura di collarini
TEC-150 HD Heavy Duty Collaring Station
T-DRILL TEC-150 HD è la più potente macchina per collarini idonea fino a tubi Schedulo 40. I collarini si possono realizzare su tubi con spessore fino a 12,7 mm. La dimensione massima del collarino ha Ø pari a 168,1 mm. Nei tubi Schedulo 40 ciò vuol dire che i collarini si possono fabbricare nei tubi principali con Ø di 406,4 mm. Nei tubi Schedulo 40 più grandi la parete del tubo è maggiorata.
L'intero processo di fresatura del foro pilota, estrusione del collarino e smussatura del bordo può essere eseguito in un solo piazzamento.
Video of the basic TEC-150 Collaring machine.
CONFRONTO: Giunti Saldati <=> Collarini e Flange T-DRILL