AHR Expo 2020
The world's largest HVACR marketplace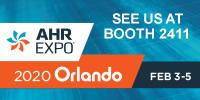 03.02.2020 - 05.02.2020
Orlando, Florida | USA
Booth No. 7243
T-DRILL at the AHR Expo 2019 in Orlando, FL. USA February 3-5,  2020
We warmly welcome you to visit our Booth 2411 to discuss and discover T-DRILL's latest tube fabrication innovations!
The latest T-DRILL tube end forming innovations include e.g. the newly launched Industry 4.0 ready Tube End Spinner SPM-115 for flat closing of copper & brass tubes.
For effective tee forming, we are showcasing several great options – both automatic industrial collaring machines and powerful portable solutions for different materials and applications with our S-54 , PND-54, TEC-150, and HFT-2000 Stainless machines.
To cover all the T-DRILL technologies, we are also presenting Chipless Cutting Machine TCC-28 for a highly automated, fast and accurate method for cutting small diameter tubes to length.
We will be Cutting, Notch & Dimpling, Spinning, and Forming Tee's in Wieland's K-65  (C19499 CuFe2P) Copper Iron material at the Show.
Below you can see videos of couple machines, but at AHR you are able to witness live demonstrations throughout the whole exhibition
– Welcome to visit us and witness our slogan "PRODUCTIVITY AS A PRODUCT" in action!